Pipe Coupling facilitates multi-directional movement of hoses.
Press Release Summary: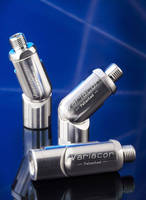 Suited for connecting 2 runs of rigid pipe or flexible hose, or end fitting, such as nozzle or gun, Variacor® coupling for hydraulic hose applications provides free rotation through 360° for both sides of fitting while pneumatic option ensures free rotation of 360° for one side of fitting and 90° for other. Product changes angle of flow direction, axially between 180° and 90°, with full 360° swivel at either, or both ends. Adjustments are manual, instant, and can be free or lockable.
---
Original Press Release:

Coupling Means Optimum Hose Flexibility and Maneuverability



A new pipe fitting which provides free orientation for hydraulic and pneumatic hoses and tools across a wide range of industrial applications has been introduced by spray nozzle specialists BETE Ltd. The patented Variacor® coupling ensures hosing can be flexible and multi-directional and so brings important benefits to users. For example, the innovative design of the coupling ensures optimum flexibility which results in less wear on hoses and so reduces costs. Also, increased manoeuvrability of the hose means easier handling for the user while the lower pressure and flow losses compared to conventional couplings, results in a more consistent and improved flow.

The coupling for hydraulic hose applications provides free rotation through 360° for both sides of the fitting while the pneumatic option ensures free rotation of 360° for one side of the fitting and 90° for the other. This 360° / 90° combination also applies to the coupling which is designed for wash guns.

The Variacor coupling is ideal for connecting two runs of rigid pipe or flexible hose, or an end fitting, such as a nozzle or gun. It is a simple, but highly effective means of changing the angle of flow direction, axially between 180° and 90°, with a full 360° swivel at either, or both ends. Adjustments are manual, instant and can be free or lockable. Directional change is achieved by a simple slide turn of the outlet section against the inlet section of the connector.

Further details, product literature is available from:

Beesh Zytynski, BETE Ltd,

PO Box 2748, Lewes, East Sussex, BN8 4BA, UK

Tel: +44 (0) 1273 400 092.

Fax: +44 (0) 1273 401 220.

Email: Beesh@beteuk.com

www.beteuk.com

Related