Pink Terminal Blocks Help in the Fight Against Breast Cancer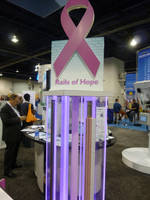 MIDDLETOWN, Pa. – Since inventing the modular terminal block in 1928, Phoenix Contact has produced many varieties of its signature product, but until this October, the company has never manufactured a pink terminal block. In honor of Breast Cancer Awareness Month, Phoenix Contact introduced a special pink version of its most popular product, the UT4 terminal block, which helped to raise more than $1,430 for the Susan G. Komen organization (www.komen.org).



At the recent Solar Power International trade show, held October 17-20 in Las Vegas, Phoenix Contact asked visitors to its booth to pledge a donation to a breast cancer awareness charity. In return for the pledge, donors could put their name or the name of an honoree on a pink terminal block using one of Phoenix Contact's marker labels. Each terminal block was then placed onto the "Rails of Hope" DIN rail display. Two-hundred eighty-six people pledged to donate, and Phoenix Contact donated $5 for every pledge received at the show.



Phoenix Contact also took part in Lee National Denim Day on October 10. Employees paid $5 to participate in a casual dress day, raising a total of $1,100 for the American Cancer Society's breast cancer research programs. Participating employees received a pin-on version of the pink terminal block as a thank-you gift.



"We're proud of our employees and customers who participated in Rails of Hope," said Jack Nehlig, President of Phoenix Contact USA. "Every dollar makes a difference. Through fundraising campaigns like the Lee National Denim Day and our own Rails of Hope, we are getting closer to a cure for breast cancer."



About Phoenix Contact

Phoenix Contact develops and manufactures industrial electrical and electronic technology products that power, protect, connect and automate systems and equipment for a wide range of industries. Phoenix Contact GmbH Co. KG, Blomberg, Germany, operates 50 international subsidiaries, including Phoenix Contact USA in Middletown, Pa.



For more information, visit www.phoenixcontact.com or call technical service at 800-322-3225, e-mail info@phoenixcon.com.



Related