Pinhole Detector inspects coatings on conductive substrates.
Press Release Summary: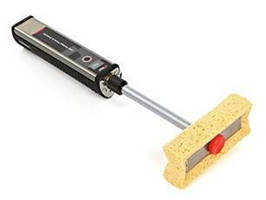 With TQC Low Voltage Pinhole Detector, users can inspect coatings for small defects such as holidays and pinholes using wet sponge technique. Unit is available in Basic Model LD8100 with voltages of 9 and 90 Vdc, and Advanced Model LD8015 with voltages of 9, 24, 67.5, and 90 V. Measuring max coating thickness of 500 µm, detectors include color display with battery indicator and menu-based interface, automated self diagnostics, and smart power saving feature.
---
Original Press Release:

Introducing the New Product: TQC Low Volt Pinhole Detector



The TQC Low Voltage Pinhole detector enables you to inspect various coatings on conductive substrates for small defects such as holidays and pinholes using the 'wet sponge technique.'



Standards: ISO 8289-A, ISO 14654:1999, BS 7793-2:1996, ASTM D 5162-A, JIS K 6766:2008, TM0384-2002



Features:

• Color display with battery indicator & menu based interface

• Visual, audible, headphones and/ or display, vibration feedback*

• Return cable connectivity detection*

• Automated self-diagnostics

• Available in two models: Basic (Model LD8100) & Advanced (Model LD8105)

• Intuitive single button controls

• Smart power saving feature (screen dimming, standby, auto power-off)



*Depending on model



Technical Specs:

• Voltages (DC): Model LD8100: 9 V and 90 V; Model LD8105: 9 V, 24 V, 67.5 V, 90 V

• Measuring Range: Up to maximum 500 µm (20 mils) coating thickness

• Voltage Accuracy: ±2 % at 9 V, 24 V and 67.5 and 90 V

• Headphone Output Impedance: Approximately 75 Ω

• Headphone Connector Type: 3.5 mm jack plug

• Headphone Output Power: Maximum 150 mW

• Sensitivity: 100 kΩ for all voltages

• Units: On/Off indication (defect/intact)

• Operating Relative Humidity: 0-85 % Rh

• Display: Graphic color display, 1 inch, 96 X 64 px

• Factory Calibration: Inclusive using traceable standards

• Operation: Single button. Microprocessor menu controlled

• Instrument Dimensions: 190 X 40 X 45 mm / 7.5 X 1.6 X 1.8 inch

• Battery Lifetime (Continuous Use): Up to 130 hour (depending on the type of battery used)



Scope of Supply:

The Low Voltage Pinhole Detector-Basic (LD8100) comes in a hardboard box with the following items: Low Voltage Pinhole Detector, Sponge Wand, Grounding cable with clamp, User manual

Low Voltage Pinhole Detector-Advanced (LD8105)comes in a hardboard box with the following items: Low Voltage Pinhole Detector, Sponge Wand, Grounding cable with clamp, User manual



More from Paints & Coatings