Pin-and-Socket System suits parallel stacking PCBs.
Press Release Summary: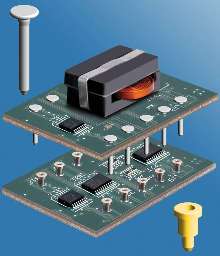 Non-intrusive, pin-and-socket interconnect system eliminates need for specialized handling or equipment. Pin and socket components are packaged in standard EIA tape-and-reel formats for direct pick-up and placement by automated equipment. Flat-headed pins are placed pin-first into plated-through-holes, and tapered shank near head assures proper alignment as pinhead comes flush with PCB's surface. Socket components align themselves as they are inserted into plated-through-holes.
---
Original Press Release:
New Non-intrusive High-strength Pin-and-Socket Interconnect System Leverages Existing Placement Equipment and Standard Single-side Reflow Processing
San Diego, CA. - - Autosplice has introduced an innovative new "non-intrusive" pin-and-socket interconnect system with a unique patent-pending design that delivers exceptional strength and integrity while eliminating any need for specialized handling or equipment. Both the pin and socket components are packaged in standard EIA tape-and-reel formats for direct pick-up and placement by industry-standard automated equipment. The pin-and-socket interconnect system also allows for maximum overall production efficiency by adapting smoothly with existing single-side SMT reflow processing techniques. The flat-headed pins are designed to be placed pin-first into plated-through-holes in the PCB, with the head coming to rest in solder paste that has been previously applied over the hole using a standard solder paste process. A tapered shank near the head assists in assuring proper alignment at the completion of the insertion process, as the pinhead comes flush with the PCB's surface. The pins are then soldered in place using standard single-side reflow processes. Unlike conforming or compliant pins that rely on an interference-fit with the hole, the new non-intrusive pins require no specialized placement equipment or packaging and are ideal for use with very thin PCBs. Similarly, the socket components are also packaged in standard EIA tape-and-reel for pick-and-place using industry-standard automated equipment. Typically placed on the motherboard of a stacking assembly, the socket components are designed for optimal self-alignment as they are inserted through solder paste into plated-through-holes. The motherboard assembly also benefits from the leverage of using a standard single-side reflow soldering process. The non-intrusive pin-and-socket system is ideal for interconnecting parallel stacking PCB assemblies; especially for high-volume production requirements that can benefit from efficient process automation and for thin-PCB daughter-board designs that cannot easily accommodate interference-fit pins. Autosplice is a leading manufacturer of terminals, component assemblies and applicator systems, providing automated solutions for creating electrical interconnections. Autosplice systems enable substantial cost savings and provide superior reliability over conventional connector products and assembly methods. For More Information: Debbie Thomas: Phone 858-535-0077, Email dthomas@autosplice.com For more information on Autosplice's products or to discuss unique applications, contact Autosplice at (800) 535-5538 or visit our Web Site at www.autosplice.com
Related