Pilot Plant Metering Pumps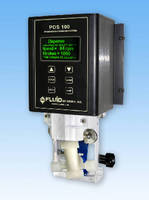 Valveless, Ceramic Pumps from Fluid Metering are the Solution for Drift-Free Fluid Control for Pilot Plants, Test stands, and Bench-Scale Process Control.

Pilot Plants are the intermediate stage between laboratory experiment and full-scale operation. It's here where precision fluid control is critical to ensure that the stage up to full-scale production is successful. FMI's valveless pumps routinely meter monomers, catalysts, food additives, acids, extraction solvents, alternative fuels, water treatment chemicals, even viscous fluids and slurries, just to name a few.

Fluid Metering's valveless, ceramic pumps have proven to be ideal for pilot plant fluid control. The sapphire-hard internal components of Fluid Metering's pumps eliminate accuracy drift typical of pumping systems that rely on valves and elastomers, (flexible tubing and diaphragms), to move fluid through the pump.

Fluid Metering's pumps are unique, providing a valveless rotating / reciprocation piston design that eliminates the need for check valves, which can clog, leak or fail over time. The result is maintenance free, drift-free fluid control that will hold an accuracy of 1% or better for millions of cycles.

In addition, Pilot Plant operations require the ability to easily change process parameters including flow rate. Fluid Metering's pumps easily accommodate that requirement as flow rates can be infinitely controlled either mechanically and/or electronically via standard industrial control protocols. Flow control is viscosity independent for added flow rate stability. Pump models are available to dispense as low as 5 µL per dispense up to 4 L per minute continuous metering.

For over 50 years Fluid Metering pumps have been used in pilot plant operations for chemical, pharmaceutical, mining, fuel cell & alternative energy, water treatment, filtration, environmental monitoring, food processing and much more.

For additional information, Call toll free 1-800-223-3388 or 1-516-922-6050, FAX 1-516-624-8261, email: pumps@fmipump.com or visit our website at www.fmipump.com which now features "Live Help", an online direct connection to FMI's application experts.