Pilot Line Demonstrates Advantages of Triple Lip Air Ring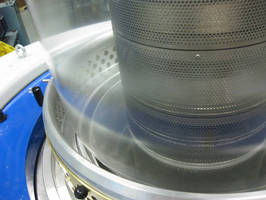 (Bridgewater, N.J.) - Davis-Standard's new blown film pilot line at its lab in Bridgewater, New Jersey, has generated excitement for the Triple Lip Air Ring. The air ring and Davis-Standard's vertex die, both on this line, are recognized for increased cooling capacity and output rates. Davis-Standard has hosted several customer trials to demonstrate the air ring's advantages in terms of output, gauge control and film quality. A few examples of these successes are outlined below.

One customer with an mLLDPE coextruded film was limited to a rate of 15 ppi (pounds per inch of die circumference) due to high ambient temperatures and limited 10-year-old cooling technology. During a pilot line trial, rates of 23 to 24 ppi were demonstrated comfortably with an improved thickness control of +/- 4 percent. This specific customer is planning to retrofit a Triple Lip system with a new die to their existing Davis-Standard coextrusion machines. Another customer developed a proprietary MDPE/LLD blend and experienced a growing market for the product that soon exceeded its production capability. The trial showed rates of 34 ppi with the potential for rates of 35-37 ppi, which is more than 50 percent greater than those the customer is presently achieving. In addition, several can liner customers have been able to use the DS pilot line to run their 0.9 mil, 100 percent fractional melt LLDPE at rates of 23 to 25 ppi with much improved gauge tolerance. These figures are now being used to develop new capacity can liner machines.

The Triple Lip is unique because of its singular design of one air ring, blower, chiller, etc. instead of two. It has a counter-cooling concept along the hi-stalk and an easily adjustable elevator system. Processors have a wider production range and improved outputs with a BUR (blow up ratio) of 2.0:1 to 4.4:1. Performance increases in the 30 to 40 percent range are common with excellent thickness control. Processors can also take advantage of simplified maintenance. The air ring is available on new lines or as a retrofit to existing Davis-Standard lines.

Due to the immediate response, Davis-Standard developed an all-day event for individual customers to introduce the Triple Lip and perform trials on specific products using customer blends and materials. This includes discussions and presentations related to blown film process and equipment issues. Topics comprise systems for can liners, multi-layer film structures and stretch film, screw and die design technology, replacement components, winders for various applications and blown film profile measurement, among other topics.

"These events are available for all of our customers," said Rick Keller, vice president of Davis-Standard's blown film systems. "They offer a unique way of looking at future technology and helping customers find better solutions."

For more information about the Triple Lip or to schedule a pilot line trial, contact Rick Keller at kellerr@bc-egan.com.

More from Fasteners & Hardware