Pillow Blocks come in single, twin, and double models.
Press Release Summary: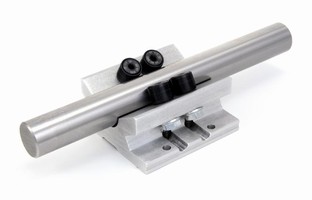 With aluminium body and black oxide finishing on exposed surfaces, Rino Roller Bearing Pillow Blocks offer corrosion resistance and are fully adjustable to allow radial clearance. Single units are self-aligning. Features include interchangeability, shaft protection, low friction properties, lithium based grease lubrication, and 60-250ºF operating temperatures.
---
Original Press Release:

Rino Roller Bearing Pillow Blocks



Rino Industries Ltd of Chesterfield is pleased to announce the launch of a new range of roller bearing pillow blocks with many advantageous features, the company states.

Single, twin and double pillow blocks are all available as standard, although single units have so far proved the most popular. They are fully adjustable to allow for easy radial clearance and they are self-aligning (single units only) due to their unique design. In most applications, the double and twin models also either match or exceed the tolerances for misalignment offered by the recirculating ball pillow block.

They offer good corrosion resistance as they are constructed of an aluminium body and the exposed surfaces have a black oxide finish to resist corrosion. Higher speeds, interchangeability and longer life and shaft protection are all advantages offered as standard from this range. They are also rebuildable, have low friction properties, are lubricated with a Lithium based grease and sealed. Operating temperatures as standard are 60ºF up to 250ºF.

Options available include - scrapers for excessively dirty environments, floating pillow blocks for shafts that are not parallel, top grease plates that re-grease where applications using extreme temperatures or high speeds prevail and pillow block rebuild kits.

In summary, the three main types of roller bearing pillow blocks offered are single, double and twin. Single units are the most widely used and are an excellent choice for standard linear movements or where there is a severe shaft deflection. Doubles have twice the dynamic load rating of single units and can be mounted in place of the singles in most applications due to similar mounting footprint. They provide a great solution for applications that were under-engineered and now require a greater load capacity pillow block to fit into the same area or, in cases that require longer travel life. Twin pillow blocks have the same dynamic load rating as the doubles, and are a good choice when using only one pillow block per shaft or in applications used to cantilever load or moment. The twin model offers an additional pair of mounting holes if needed.

Website: www.rino.co.uk

More from Machinery & Machining Tools