PiL P53 Sensor Mounting Kit is made from polished V4A grade stainless steel.
Press Release Summary: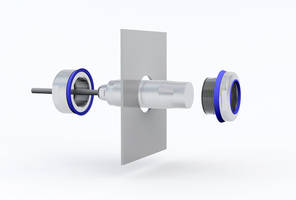 Suitable for food, beverage sector, chemical and pharmaceutical industries, PiL P53 Ultrasonic Sensor Mounts are 30 mm wide with gapless design. Meeting protection ratings of IP68/IP69K with temperature range of -15°C to +80°C, units offer surface roughness of <0.6 μm. Mounting kits are EHEDG-compliant.
---
Original Press Release:
PiL P53 Hygienic Ultrasonic Sensors Mounting Kits Now Available with EHEDG Certification
Durable ultrasonic sensors & mounts for applications with demanding hygienic requirements
Hoffmann-Krippner today announced the availability of the EHEDG (European Hygienic Engineering and Design Group) certified hygienic mounting kit for PiL's P53 "Steel Head" ultrasonic sensors. This new, off the shelf, hygienic sensor solution has been designed for the food and beverage sector and chemical and pharmaceutical industries – suitable for any manufacturing/assembly/bottling/packaging system that requires a clean and hygienic environment.
Consisting of half-shells, each with one opening to accommodate the sensor ends, these installation sets can be used to securely mount P53 sensors to walls or enclosures. FDA-approved, food-safe gaskets made from 10/101 grade silicone are firmly pressed onto the conically formed ends of the sensor when the half-shells are screwed together. This procedure reliably and hygienically seals the gap between the sensor and the mounting kit.
The "Steel Head" P53 sensors and EHEDG-compliant mounting kits make PiL one of the few manufacturers of rugged ultrasonic sensors that are truly suitable for use in applications with demanding hygienic requirements.
Due to its gapless design, the fully encapsulated 30 mm wide housing of the PiL P53 can be kept perfectly clean. Like the mounting kit, it is made from polished V4A grade stainless steel with a surface roughness of <0.6 μm. The sensors feature a narrow ultrasonic beam with a range of 150 to 1,500 mm, making them very versatile for use throughout the food and beverage sector as well as the chemical and pharmaceutical industries.
Versions with analog output (4..20 mA) are supplied with pre-set response curves, while models with a switch output allow for a quick and easy adjustment of the desired switching points via teach-in. "Steel Head" sensors are safe to clean with high pressure or steam jets thanks to their high Ingress Protection rating (IP68/IP69K) and extended temperature range of -15 °C to +80 °C.
PiL P53 ultrasonic sensors are ECOLAB certified and can therefore be treated with aggressive chemical cleaning agents. With a food-grade cable and hygienic cable gland, PiL ultrasonic sensors meet EHEDG requirements at the connecting end as well. These superior characteristics make the PiL P53 system virtually the only off-the-shelf hygienic sensor solution on the market.
For more information and data sheets, please visit http://www.hoffmann-krippner.com/sensors-ultrasonic.html or call us at 770-487-1950.
ABOUT HOFFMANN + KRIPPNER, INC.
The Hoffmann + Krippner Group, with sales offices around the globe, is your specialist for input and output systems as well as sensors. Headquartered in Germany, Hoffmann + Krippner manufactures German-engineered, high quality products for over 35 years.
As the North American member of the Group, Hoffmann + Krippner, Inc. delivers these engineering, design and manufacturing services to the US and Canadian market.
As of 2014, Hoffmann + Krippner, Inc. has partnered with Altmann GmbH (manufacturer of high-precision potentiometers), inelta GmbH (manufacturer of LVDT and load cells), and PiL Sensoren GmbH (manufacturer of ultrasonic sensors). Beyond manufacturing of standard products, we always welcome the challenge of providing high-quality, custom solutions to our clients.
Contact:
Sabrina Huschens
Marketing + Inside Sales Mgr.
PO Box 1489,
Woodstock, GA 30188
s.huschens@hoffmann-krippner.com
+1 (770) 487-1950
More from Electrical Equipment & Systems