PIHera Piezo Positioners offer vibrationless motion.
Press Release Summary: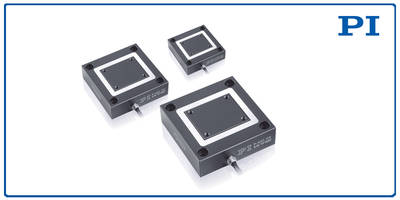 Suitable for OEM production automation, metrology systems, scientific research and lab automation applications, PIHera Piezo Positioners P-620.1 to P-629.1 deliver unlimited resolution and vibrationless motion. Equipped with absolute-measuring direct-metrology capacitance sensors, units provide -20 to 80°C temperature tolerance. Offering 0.02% positioning accuracy, positioners feature PICMA® piezo ceramic actuator engines.
---
Original Press Release:
Compact Linear Piezo Stages offer Nanometer Resolution and Extended Travel Ranges, from PI
PI's new PIHera Piezo Flexure linear stages with travel to 1800 µm and <0.1nm resolution.
Engineers and scientists working in the fields of nano-biotechnology, metrology, and photonics run applications that require nanometer precision and ultra-fine adjustment, often in confined spaces. To meet those requirements, PI, a lead manufacturer of nanopositioning and motion control solutions, provides its compact linear piezo positioners – P-620.1 to P-629.1 – of the PIHera family consisting of 60 stages available in a large variety of travel ranges.
Vibrationless Motion, Nanometer Resolution and Below, Fast Response
Flexure-guided piezo positioning stages deliver vibrationless motion, with virtually unlimited resolution, and fast response in comparison to mechanical bearing-guided motorized systems. The lack of rolling elements means there is no bearing rumble to affect the uniformity or straightness of the linear motion. PIHera precision closed-loop single stages are equipped with absolute-measuring direct-metrology capacitance sensors and provide resolution down to 0.1nm, in a compact, FEA optimized package for high stiffness and long lifetime. Direct metrology provides higher stability and linearity compared to inferred metrology feedback – usually based on piezo resistive strain gauges, a technique also available from PI for low cost piezo nanopositioners. Cost effective and positioning accuracy of 0.02% make these compact stages ideal for applications that require frictionless, vibration-free, positioning with high linearity.
Controllers and Software
Customers can chose between compact single axis controllers, OEM cards and rack mount units for multiple axis solutions. LabView drivers, and a plethora of additional software tools are available for easy start-up and integration.
Ultra-Reliable Piezo Ceramic Drives
Driven by PI's proprietary PICMA® piezo ceramic actuator "engines" (tested by NASA/JPL for 100 billion cycles and employed on the Mars Rover), PIHera piezo positioning stages have unique properties especially important in long-term research and industrial applications, including temperature tolerance range of -20 to 80°C.
Quick Delivery
Available for quick delivery, the PIHera stages join the mix of piezo systems that are geared toward OEM production automation, metrology systems, scientific research, and lab automation applications. The on-hand availability, coupled with rapid shipment, enables quick integration without long lead and planning times.
Best in Class, Standard and Custom
These ultra-precise piezo mechanic nanopositioning devices are a result of PI's 40 years of experience with piezo flexure positioners, developed by the world's most experienced nanopositioning design teams, available for quick modification or a fully customized OEM solution. PI flexure piezo stages can repeatedly provide nanometer and sub-nanometer size steps, and their high stiffness and advanced control algorithms allow them to move and settle quickly, within a few milliseconds. PI also offers high-speed models that settle in under one millisecond. Flexure stages provide friction-free motion with excellent straightness and flatness data. Similar performance can only be achieved with air bearings and magnetic levitation guiding systems -- both technologies also offered by PI.
USA / Canada
http://www.pi-usa.us | info@pi-usa.us
East (508) 832-3456
Midwest (508) 832-3456
West (949) 679-9191 (LA Area & Mexico)
(408) 533-0973 (Silicon Valley/Bay Area)
About PI
PI is a leading manufacturer of piezo ceramic components, precision motion control equipment, piezo motors, air bearing stages and hexapod parallel-kinematics for semiconductor applications, photonics, bio-nano-technology and medical engineering. PI has been developing and manufacturing standard & custom precision products with piezoceramic and electromagnetic drives for 4 decades. The company has been ISO 9001 certified since 1994 and provides innovative, high-quality solutions for OEM and research. PI is present worldwide with twelve subsidiaries, R&D / engineering on 3 continents and total staff of 950+.
More from Communication Systems & Equipment