Piezoelectric Accelerometer measures low level vibration.
Press Release Summary: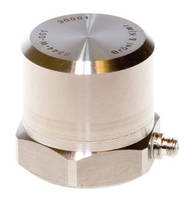 Featuring integral electronics and DeltraTron preamplifier, DeltaShear® Accelerometer Type 8344 can be mounted on test object with M5 threaded steel stud and is suitable for measuring low level vibration effects in structures and machines. Transducer is hermetically sealed with Transducer Electronic Data Sheet containing sensor and application-specific information, including frequency response compensation. It has stainless steel exterior and operates from -50 to +100°C.
---
Original Press Release:

Highly Attuned Accelerometers



Brüel & Kjær has launched a new DeltaShear® Accelerometer - Type 8344 - suitable for measuring very low level vibration effects in structures and machines.

The 8344 combines very high sensitivity with excellent frequency response, making it ideal for measurement and analysis applications where a very low level of vibration can affect performance. This would include the effect of ground-borne vibration - caused by construction site operations - on nearby installations, containing devices such as electron microscopes or semiconductor wafer manufacturing facilities.

The 8344 has a built-in DeltaTron preamplifier, which allows it to form part of a Fast Fourier Transform (FFT) testing kit, when coupled with Brüel & Kjær's 2250 sound level meter and FFT data analysis software.

The 8344 is a piezoelectric DeltaShear® accelerometer with integral electronics, which can be mounted on a test object with a M5 threaded steel stud. The transducer is hermetically sealed, with a Transducer Electronic Data Sheet (TEDS) containing sensor - and application - specific information, including frequency response compensation. It has an incredibly robust, stainless steel exterior and operates with temperatures ranging from -50 to +100°C.

The DeltaShear design involves three piezoelectric elements and three masses arranged in a triangle around a triangular centre post, which is bolted to the housing. The ring pre-stresses the piezoelectric elements to give a high degree of linearity. The signal is collected between the housing and the clamping ring and then amplified by the built-in DeltaTron preamplifier.

For more information about Brüel & Kjær's 8344 accelerometer, please visit: www.bksv.com/doc/bp2261.pdf

About Brüel & Kjær

Brüel & Kjær is a world-leading manufacturer and supplier of sound and vibration solutions for use in a wide range of applications including: environmental noise measurements, building acoustics, vibration measurements and quality control for use in the automotive, aerospace and consumer industries, as well as by local authorities.

We design and manufacturer sound level meters, microphones and accelerometers, conditioning amplifiers, calibrators, noise and vibration analysers and software. To see our full range and for more information, please visit www.bksv.co.uk or contact our sales team: telephone +44 (0) 1763 255 780 or email: ukinfo@bksv.com

Brüel & Kjær also runs a variety of training courses throughout the year, from basic introductions on noise and it's effects to more specialised classes teaching customers how to get the most out of their equipment. To see our full training course calendar, visit: bksv.co.uk/Courses/Training%20Courses.aspx

Free, online training courses - conducted by our expert engineers - run throughout the year too. For registration details and the latest planned web training sessions, visit: bksv.co.uk/Courses/Web%20Courses.aspx

Brüel & Kjær has two UK-based laboratories which are UKAS accredited to the international standard ISO/IEC 17025. Brüel & Kjær can provide traceable or accredited calibration for sound level meters, microphones, calibrators, artificial ears, conditioning amplifiers and accelerometers.

To book a service or for more information, please contact our service department on +44 (0) 1763 255 780 or visit: bksv.co.uk/ServiceCalibration/CalibrationService.aspx

Brüel & Kjær has 1150 employees, with sales offices in 55 countries. Brüel & Kjær is a subsidiary of UK-based Spectris plc (www.spectris.com) which has annual sales of £787m and employs around 6,000 people worldwide in its 13 business units.

For additional information please contact:

Heather Wilkins

Marketing Coordinator

Bruel & Kjaer UK Ltd

Telephone: 01763 255 780

Web: www.bksv.co.uk

Email: heather.wilkins@bksv.com


More from Electrical Equipment & Systems