Piezo Motor Linear Stage features closed-loop controller/driver.
Press Release Summary: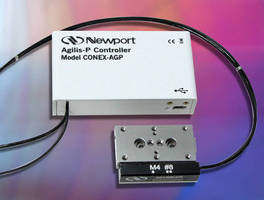 CONEX-AG-LS25-27P integrates CONEX-AGP controller with Agilis(TM) AG-LS25-27P linear stage that includes miniature direct-read linear encoder. Controller delivers bi-directional repeatability of 0.3 µm, suitable for confined spaces requiring single-axis control, and linear stage is capable of 27 mm travel. CONEX GUI is accessible via USB, which also supplies power to controller, eliminating need for power supplies and/or cables.
---
Original Press Release:

Newport Introduces Affordable & Compact Piezo Motor Linear Stage with Closed-Loop Controller/Driver



Irvine, CA - Newport Corporation, a worldwide leader in laser and photonic solutions that Make, Manage and Measure Light®, introduces the newest member of the CONEX(TM) integrated stage and controller product series. The compact CONEX-AGP controller is preconfigured with an Agilis(TM) AG-LS25-27P linear stage that includes an innovative, miniature, built-in, direct-read linear encoder. The CONEX-AG-LS25-27P, which integrates both products, offers quick set up and control with closed-loop positioning performance at an affordable price.

The CONEX-AG-LS25-27P is the first of two specialized stage products to be released that combines an advanced piezo motor linear stage with the low-cost architecture of the CONEX controller family. The ultra-compact controller delivers sub-micron, bi-directional repeatability of 0.3 µm, making it ideal for applications in confined spaces that require integrated, single-axis control. The linear stage is also very compact, capable of 27 mm travel and 0.2 µm metal-insulator-metal (MIM).

"The CONEX-AGP closed-loop algorithm is a simplified version of the typical DC servo loop algorithm, and combined with the stage's linear encoder, provides a highly repeatable bi-directional system," notes Beda Espinoza, Newport's Senior Product Manager, Motion Control. He adds, "We are pleased to announce this highly functional, easy-to-use integrated CONEX system that meets the need for motion control of repetitive tasks with an affordable solution."

The controller's versatile deadband function allows the user to modify the closed-loop parameters to program the acceptable deviation from a position, and to hold that position steady. The new controller features the simple and intuitive CONEX GUI, accessible via USB. For added convenience, the USB interface also supplies power to the controller which eliminates the need for additional power supplies and/or cables.

For more information about Newport's CONEX-AG-LS25-27P compact piezo motor linear stage with single-axis motion controller/driver, please visit www.newport.com/CONEX.

About Newport Corporation

Newport Corporation is a leading global supplier of advanced-technology products and systems to customers in the scientific research, microelectronics manufacturing, aerospace and defense/security, life and health sciences and precision industrial manufacturing markets. Newport's innovative solutions leverage its expertise in high-power semiconductor, solid-state and ultrafast lasers, photonics instrumentation, sub-micron positioning systems, vibration isolation, optical subsystems and precision automation to enhance the capabilities and productivity of its customers' manufacturing, engineering and research applications. Newport is part of the Standard & Poor's SmallCap 600 Index and the Russell 2000 Index.