Pierce Arrow Develops Key Chain Remote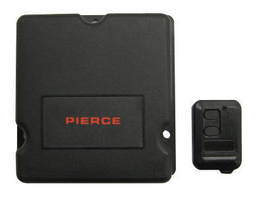 Wirelessly control a winch, pump or valve with the new key chain remote. The remote offers the same operating range as its' sister, PS105T, hand held transmitter. With 100 feet of frequency, the remote is suitable for the 4x4, farm, ranch, trailer and towing industries.

"The PS105 remote system is a solid and reliable wireless solution for price conscious users," says Pierce Sales owner and president, Jeff Pierce. "The key chain transmitter is quickly accessible and won't get lost unless the user loses his keys."

For two decades Pierce has offered a handheld wireless solution for solenoid operated equipment.

"We have sold thousands of remotes since I started at Pierce in the 1980s," Ginger Schaffner, sales and marketing manager replies. "The key chain remote is a great innovation and it modernizes the product line."

More from Electrical Equipment & Systems