Piece Picking System facilitates distribution process.
Press Release Summary: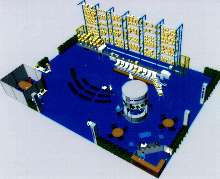 Modular Storage System III automatically replenishes digital pick-to-light flow rack so order-pickers never run out of stock when filling orders. Items move from flow rack along conveyor to Piece Sorter where orders are sorted and readied for shipping. Multiple chutes can handle many small orders or can be dedicated to single large order. System is under control of Warehouse Rx® WMS that features Data Doctor data profiling system.
---
Original Press Release:

Revolutionary New Piece Picking System Now Available


Visit promatboothl415.com to see the surprise of ProMat '03

SALT LAKE CITY, UT - SK Daifuku debuts the most advanced case and piece-picking system ever designed at ProMat '03 in booth 1415, February 10-13 at Chicago's McCormick Place North. However, demand for this system is so great, that you don't have to wait until ProMat to see it. For those who have immediate needs, the system can be viewed right now at SK Daifuku's virtual exhibit: promatbooth1415.com.

Whether you ship a few items to a lot of customers, or a lot of items to a few customers, this order-picking system is designed to fulfill your needs. Mass customization has resulted in customers requesting less pallet loads and more mixed cases of items. The case and piece-picking system facilitates value-added services in the distribution process while eliminating daily or seasonal order-picking challenges. It can be installed in an existing footprint and is easily reconfigured.

Items that comprise the system can be viewed online right now in order to procure specifications or application information at: promatbooth1415.com. This enables you to get the information you need before the show and reserve time on the show floor for questions related to your specific application. The virtual booth also allows you to register for educational seminars at the show and make an appointment with an SK Daifuku associate to discuss your special application ideas.

Included in the system is the MSS III (modular storage system), a high speed box buffer that automatically replenishes a digital pick-to-light flow rack so order-pickers never run out of stock when filling orders. Items move from the flow rack along a conveyor to the Piece Sorter where orders are sorted and readied for shipping. The Piece Sorter has multiple chutes that can handle many small orders or can be dedicated to a single large order.

An order consolidation station allows fast, accurate configuration of smaller orders to multiple customer locations with a pick-to-light system featuring two displays - one for order number and the other to indicate reducing quantity count. This system guarantees virtually error free order-picking.

The entire system is under control of SK Daifuku's WMS, Warehouse Rx®, which features Data Doctor. Data Doctor is an innovative data profiling system that takes operational and week-to-week performance data to help you assign resources where needed without re-slotting your warehouse. This feature is unique to Warehouse Rx®.

But don't take our word for it. See it now, online. Decide for yourself if you can afford to wait until February to see this system in action. Visit SK Daifuku's virtual booth online at promatbooth1415.com . While touring the virtual exhibit, you can register for ProMat 03, sign-up for free seminars featuring real life order fulfillment and distribution case study success stories, or register for valuable prizes including 2 free nights at the Fairmont Hotel in Chicago during ProMat 03.

Make your ProMat experience more valuable than ever. See the show before the show at promatbooth1415.com. Get all of the information you need now to be an educated consumer on the show floor.

For more information, contact SK Daifuku Corporation, 5202 Douglas Corrigan Way, Salt Lake City, Utah 84116. Phone: 801-359-9900; FAX: 801-359-9911; E-mail:info@skdaifuku.com. Information on SK Daifuku products and services via the Internet is available at SK Daifuku's Web site, skdaifuku.com.

SK Daifuku Corporation, a Daifuku Company, designs, sells, installs, and supports a complete line of world-class logistics systems for automated material handling in factory, distribution, and cleanroom environments. SK Daifuku's full range of advanced-technology products for factory/distribution automation includes conveyors, sortation systems, transport vehicles, order-picking systems, storage buffers, and real-time warehouse management software (WMS). For cleanroom applications, SK Daifuku offers a variety of stockers, lifters, and interbay/intrabay transport systems for 200mm and advanced 300mm wafer fabs, along with Liquid Crystal Display (LCD), Flat Panel Display (FPD) and other cleanroom applications. SK Daifuku is based in Salt Lake City, Utah, with regional offices and factory representatives located throughout the United States.

More from Material Handling & Storage