Universal Process / Temperature Controllers
PID Controller integrates with all major fieldbus protocols.
Press Release Summary: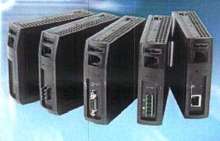 Model MLC 9000+(TM) links up to 32 loop control modules to variety of network protocols, using only 8 in. of panel space. It accepts universal, thermocouple, RTD, dc linear, and heater current inputs. Output options include relays, SSR driver, and dc linear signals. Unit offers hot-swap capability and is programmed in minutes using PC-based software. Adaptive tuning mode continuously monitors controller's performance and modifies PID values to suit process conditions.
---
Original Press Release:

Danaher Industrial Controls Announce the Next Generation Partlow Multi-Loop Bus Controller


Chicago, June 30, 2004 - The Danaher Industrial Controls Group, a division of Danaher Corporation (NYSE:DHR), delivering innovative and reliable process control and recording products to businesses worldwide, today announced its new generation bus-compatible PID controller, the MLC 9000+(TM). Like its predecessor, the MLC 9000, the MLC 9000+ continues to offer superior control performance and lower installation cost than any other network-ready PID control solution, effectively ending the need to compromise between the desire for accurate control performance and the need to integrate loop control
information into a single platform. Now equipped with more field bus communication and loop control options than ever before, as well as an enhanced control algorithm and expanded features for the unique application needs of the plastics, ovens and packaging industries, the MLC 9000+ remains an affordable, bus-based PID controller breakthrough.

Based on an innovative modular architecture, the new MLC 9000+'s bus control module (BCM) links up to 32 loop control modules to a variety of network protocols all within a mere 8 inches of panel space. In addition, the MLC 9000+ is the first multi-loop PID controller to offer system compatibility with all
major field bus protocols, including MODBUS, PROFIBUS, DeviceNet, Ethemet/IP, MODBUS/TCP and CANopen, for seamless integration and application versatility.

Ideal for applications such as multi-zone furnaces/ovens, packaging, plastics and semiconductors, the MLC 9000+ will appeal to control engineers who want the quality PID control offered by dedicated PID controllers and the integrated, single interface convenience offered by a PLC (Programmable Logic
Controller).

Combines PID Integrity with Bus Integration Convenience
Danaher's new generation PID controller represents the" best of both worlds" and ends the traditional compromise between control performance and integration when interfacing multiple controllers with PLCs. Using the MLC 9000+ system removes the analog control requirements from the PLC and communicates to the PLC just the data needed for controlling the process. In order to achieve the equivalent level of temperature control performance using a PLC, engineers may need to purchase additional PLC processors or upgrade to the next level processor adding hundreds or thousands of dollars to the overall system costs.

Cost Savings
The MLC 9000+ bus based control system can be programmed in as little as 30 minutes rather than hours or days, generating considerable cost savings. Fast programming is accomplished using an enhanced PC-based configuration software with a unique 'wizard' feature. The simple programming interface -
requires no special instruction or knowledge of complicated ladder logic to complete as required by most PLCs. The PC configurator further allows MLC 9000+ recipe files to be copied and pasted to from one controller to another ensuring multiple control loops in the system are configured identically and accurately.

Other cost savings result from the basic design of the product. Temperature controller users are no longer required to cut out panels and mount/wire individual controllers. Wiring costs and time are reduced by up to 30% on a typical temperature controller application.

The MLC 9000+ is a self-contained temperature control solution. The expense of buying and installing dedicated analog I/O cards to convert the sensors' analog signals into digital format within the PLC is eliminated. A typical 8-loop PLC solution including PLC cards, programming time, and installation, can cost more that twice as much as a MLC 9000+ solution using the same PLC.

Lowest Cost Per Loop
Unlike some competitors that offer only 8-loop modules, Danaher's loop control modules are available in flexible 1-, 3-, and 4-loop versions. Therefore, users only buy the number of loops they require for their application, resulting in less waste and more user flexibility and the lowest cost-per-loop among North American suppliers.

Smallest Size
By replacing multiple discrete controllers with the MLC 9000+, engineers can reduce the size and cost of panel enclosures. The MLC 9000+ occupies only 2.4 inches of shelf space, compared to a typical four-loop controller system that consumes up to 8 inches of shelf space. Measuring only 0.86"W x 3.9"H x 4.7"D, the MLC 9000+ base bus module has a height and width that is 25 to 50 percent smaller than the base bus modules of any other competitive controller in its class.

Unmatched Connectivity
The MLC 9000+ offers a simple interface to Ethernet/IP, Modbus/TCP and CANopen as well as other popular standard industrial protocols, such as DeviceNet, Modbus and PROFIBUS. For OEM customers who ship globally, a simple bus module change is all that is required to enable OEM's to effortlessly supply virtually any bus that their customer requests from a single supplier.

Hot Swap Capability
Each MLC 9000+ module features standard 'hot-swap' capability. Should the need arise to change a loop module, a user can simply plug in a like replacement module. The system will then automatically re-configure itself with the previous parameter set - requiring no user intervention and no power down of the
machine during the "swap out" process.

Wide Range of Sensor Inputs and Control Outputs
The MLC 9000+ controller accepts universal, thermocouple, RTD, DC linear, and heater current inputs. Output options include relays, SSR driver and DC linear signals.

New Features
That's not all. The new generation MLC 9000+ controller offers several enhanced feature capabilities over its predecessor, the MLC 9000, including:

Special Module for Plastics. DICG has developed a new 3-loop control module sized for the market. It offers key features required in the plastics industry including pre-tune, asymmetrical heat/cool algorithms, heater break detection and alarm, soft start, heater/sensor break alarm, optional operator control of power/on off and 100 ms cycle time for precise control of processes.

Expanded Control Functions. An adaptive tuning mode has been added. This works continuously to monitor the controller's performance for disturbances or oscillations and automatically modifies PID values to suit the current process conditions.

Improved Heater Break Alarm. Also available in the new 3-loop control module, the improved heater break alarm detects faults in a heating element and immediately notifies operators of the fault. Operators can address these problems before the equipment is damaged.

Hot Swap Capability. This is a benefit for OEMs who can fix customer problems by sending a new module rather than an engineer. Most competing systems do not have this feature

Price and availability. The MLC9000+ base bus module list price is $210 to $409 with loop module costs ranging from $209 to $650, dependent on the end-user configuration selected. Discounted pricing is available for high volume applications. Starting March 15, standard availability is 2 to 4 weeks ARO,
with faster delivery available by special arrangement

For More Information. For more information on the new generation Partlow MLC 9000+ PID bus controller or any related Danaher Industrial Controls Group count, time, and control products, call the company at +1.800.873.8731 or visit the Partlow or MLC 9000 product websites at mlc9000/info or www.partlow.com, respectively.

About Danaher Industrial Controls. Danaher Industrial Controls Group, a division of Danaher Corporation (NYSE:DHR), designs, manufacturers and markets a wide variety of controllers, recorders, encoders, counters, motion controls and timing products worldwide under the recognized global brands of
Dynapar(TM), NorthStar(TM), and Hengstler(TM) brand encoders, Harowe(TM) brand resolvers, Veede-Root(TM) brand counters, Partlow(TM) controllers and recorders, West(TM) controllers, and Eagle Signal(TM) brand timers.

For more information contact your nearest DICG distributor or DICG headquarters at 1675 Delany Road, Gumee, IL 60031. Phone: +1-800-873-8731 or +1.847.662.2666; FAX: +1.847.662.6633. Website: www.dancon.com

More from Communication Systems & Equipment