PICMG 1.0 Full-Size SBC is based on Intel 965 chipset.
Press Release Summary: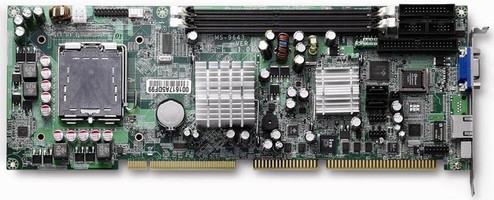 Available with Intel® Core(TM)2 Duo, Pentium® D, Pentium® 4, or Celeron® D processor, NuPRO-852 single board computer (SBC) has Intel® GMA 3000 graphics core architecture that provides up to 2,048 x 1,536 resolution. Features include dual-channel DDR2 memory with speeds of 533/667 MHz, 10.6 GBps peak memory bandwidth, and 1,066 MHz FSB. Suited for surveillance and SMT inspection systems, SBC also offers single Gigabit Ethernet on PCI Express® bus and two 3.0 Gbps SATA ports.
---
Original Press Release:

The First PICMG1.0 Full-Size SBC Based on 965 Chipset Featuring Intel® Core(TM)2 Duo and GMA 3000 Integrated Graphics



Taipei, Taiwan (December 20, 2006) - ADLINK Technology Inc. announces one of the best performing PICMG 1.0 full-size single board computers available in the market. The NuPRO-852 features dual-channel DDR2 memory at speeds of 533/667MHz, the new Intel® GMA 3000 graphics core architecture providing up to 2048x1536 resolution with 10.6GB/s peak memory bandwidth, a Front Size Bus to connect the CPU and memory at 1066MHz, and several processor options: Intel® Core(TM)2 Duo, PentiumR D, PentiumR 4, and Celeron® D.

Combined with the Intel® Core(TM)2 Duo processor, the NuPRO-852 offers a 40%+ increase in performance over other single board computers based on the Intel® Pentium® 4. The NuPRO-852 also provides high communication bandwidth using a single Gigabit Ethernet on the PCI ExpressR bus and two Serial ATA ports high-speed data transfers rates up to 3.0Gbps

This combination of powerful processing capability, high performance graphics, a high-speed Front Side Bus, and high communication bandwidth is ideal for use in gaming applications, surveillance systems, and SMT inspection systems.

Please visit www.adlinktech.com or contact your local sales representative for more information.

About ADLINK

ADLINK Technology Inc. specializes in embedded computing, improving and advancing test & measurement, industrial automation, and communication technology. ADLINK provides high quality and long term solutions for telecoms, intelligent transportation systems, and electronic manufacturing industries. ADLINK is an ISO-9001, ISO-14001 and TL9000 certified manufacturer and maintains its leadership position in quality by utilizing 6 Sigma statistical analysis tools. ADLINK has received several Taiwan Symbol of Excellence awards for its products, is an associate member of the IntelR Communications Alliance, an Executive Member of PICMGR, a Sponsor Member of PXI Systems Alliance and has a seat on Board of Directors, and joined LXI Consortium. ADLINK's CTO, Jeff Munch, is Chair of the AdvancedTCA subcommittee. ADLINK has operations in America, Singapore, and China, and is a publicly traded company listed on the TAIEX, Taiwan Stock Exchange, under the number "6166." For more information, please visit: www.adlinktech.com

Related