Picking System increases order selection productivity.
Press Release Summary: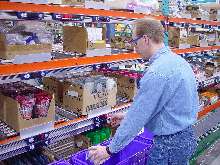 PickDIRECTOR® Express integrates indexing conveyor and pick to light technology. Multiple pre-labeled totes or cartons are indexed into picking zone on belt conveyor in sequence. Order selector picks required items and confirms picks. Operation is repeated until all sequenced totes in zone are completed. Efficiency and productivity are increased since operators are not required to scan bar codes on each tote/carton or move totes/cartons from zone to zone.
---
Original Press Release:

Siemens Dematic Introduces PickDirector® Express


Order Selection Productivity Extends to Higher Levels

Grand Rapids, Michigan - (Thursday, June 12, 2003)-Siemens Dematic, Material Handling Automation, introduces PickDIRECTOR® Express, an enhancement to the PickDirector light directed order fulfillment system. PickDirector Express is a picking solution that integrates indexing conveyor and pick to light technology to provide a higher performance order fulfillment system. PickDirector Express can boost picking rates by as much as twenty five percent over typical pick to light configurations.

In a typical PickDirector application, multiple pre-labeled totes or cartons are indexed into a picking zone on a belt conveyor in sequence. The picks for each of the unique orders in the bay are displayed in sequential order. Accuracy is assured by displays placed above each tote which indicate the 'target' tote requiring the items. As with a typical pick to light system, the order selector picks the required items and confirms the picks. This operation is repeated until all sequenced totes in the zone are completed. Completion of the entire group of totes in a zone signals the conveyor system to index the group of totes to the next zone, automatically presenting a new group of orders to the operator. Efficiency and productivity is increased since operators are not required to push or move the totes/cartons from zone to zone; operators are not required to scan the bar codes on each tote/carton as it enters the zone.

According to George Feigley, Manager IT Logistics for Siemens Dematic, "PickDirector Express supercharges the picking operation and provides an opportunity-rich picking environment."

Siemens Dematic
Siemens Dematic Material Handling Automation, formerly Rapistan, is one of Siemens' operating companies in the United States. The company, with its world headquarters in Grand Rapids, Michigan, designs and manufactures integrated material handling solutions for manufacturing, distribution and warehousing, automotive, parcel, freight, postal, air cargo and baggage handling industries. Siemens Dematic Material Handling Automation and its global affiliate, Siemens Dematic AG, supply a wide range of solutions, from individual products and systems to complete turnkey facilities as a general contractor. In addition to Material Handling, Siemens Dematic includes two other businesses: Postal Automation and Electronic Assembly Systems. The company, with approximately 11,000 employees worldwide, has a business volume of around $3 billion. More information on Siemens Dematic may be found at www.siemens-dematic.us.

Siemens AG (NYSE: SI), headquartered in Munich, is a leading global electronics and engineering company. It employs 426,000 people in 192 countries and reported worldwide sales of $77.8 billion in fiscal 2002 (10/1/01 - 9/30/02). The United States is Siemens' largest market in the world, with sales of $21.5 billion in fiscal 2002 and approximately 70,000 employees in all 50 states and Puerto Rico. Corporate headquarters for Siemens' U.S. businesses are located in New York City. For more information: www.usa.siemens.com

More from Fluid & Gas Flow Equipment