Pickering Interfaces at Productronica 2007, Hall A1, Booth A1.349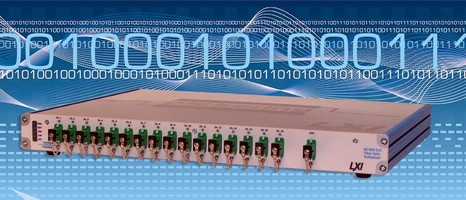 Pickering's range of instrumentation provides innovative test solutions to users and integrators of modular test systems-

Clacton-on-Sea, UK, November 2007 - Pickering Interfaces has continued to regularly release new products in both the LXI and the PXI platforms.

According to David Owen, Business Development Manager for Pickering Interfaces, "LXI enquiries have been particularly strong in the last 6 months as more and more users are realizing the benefits of the new platform. These enquiries are leading to a steadily increasing number of switching solutions being made available by Pickering Interfaces and LXI is becoming an increasingly important part of our business model. We have just released a new publication, LXImate, that describes the LXI standard and its benefits and can be obtained free of charge through our website".

New LXI releases include the first dedicated optical multiplexer to be controlled via the LXI interface, the 60-850 and 60-851. These single and multimode multiplexers are available in a variety of configurations including 8:1 and 16:1 configurations. New matrix solutions in LXI include the 60-310 High Voltage 300x2 Matrix which provides an ideal solution for insulation testing of cable assemblies and wiring systems. The 60-200 Remote AC Power Management Switch provides a simple of way of remotely controlling the AC power to LXI and other instruments, permitting systems to be restarted or closed down in a controlled way without physical access to the system.

Pickering Interfaces has continued to release new PXI modules. A new range of RF cards, the 40-870 series, has been released which provides excellent RF performance to 3 GHz. The initial range provides high density SPDT (40-870), 4 channel MUX (40-872), 8 channel MUX (40-874) and an expandable 2x2 matrix (40-877). The BRIC range has been expanded with the introduction of a 2 slot BRIC that addresses space sensitive high density matrix applications, a solid state version of the BRIC (40-563) for requirements where speed and long life under hot switching conditions is required and 2A versions of the BRIC (40-566) for high current applications. New switching systems have been introduced that are ideal for fault insertion applications were safety critical controllers are required to be tested under fault conditions caused by faulty sensors or cable assemblies.

David Owen commented "PXI is an important part of our business and we are committed to continuing to expand our range of switching solutions using this platform, we consider PXI and LXI to be complimentary platforms that we will pursue in parallel, selecting the most appropriate platform for each application".

http://www.pickeringtest.com

About Pickering Interfaces

Pickering Interfaces is a market innovator in signal switching and conditioning for a broad range of applications and architectures, with the largest range of switching cards in the industry for PXI, LXI, PCI, VXI and GPIB applications. Pickering Interfaces has provided solutions to both commercial and military applications. In addition, Pickering's range of instrumentation provides innovative test solutions to users and integrators of modular test systems. Pickering Interfaces operate globally with direct operations in the US, UK, Germany, Sweden, France, Czech Republic, and Engineering support in China, together with additional representation in countries throughout the Americas, Europe and Asia.

More from Electronic Components & Devices