Pick-to-Light System features hand sensor technology.
Press Release Summary: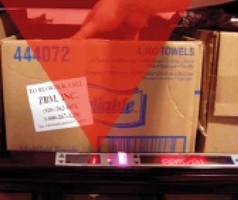 Incorporating Sense-ME(TM) hand sensor technology, Pick-MAX2(TM) system monitors opening of pick face and validates that picker has actually entered proper face for each pick. It also allows for hands-free task completion for selected applications, eliminating need to press button after each pick. Features include 3 color pick face display, 5 color pick status indicator light, and 3-conductor BUS integrated into plastic extrusion to mount to any type of flow rack or static shelving.
---
Original Press Release:

Innovation Make Sense -- Pick-to-Light Made More Accurate



Plus, Pick-MAX2(TM) Pick-to-Light System Now Carries Life-Time Warranty

(Ixonia, WI) - IPTI, Inc. adds the Sense-ME(TM) hand sensor technology to their PICK-MAX2 system. This option monitors the opening of the pick face and validates that the picker has actually entered the proper pick face for each pick.

The standard Pick-MAX2 system offers a pick face display that reduces operator-picking motions and combines pick status indicators to make the process more efficient. The new Sense-ME option allows hands-free task completion for selected applications, eliminating the need to press a button after each pick to increase accuracy. In essence, it is almost as if the picker simply has to pick and not punch.

In addition the Pick -MAX2 carries a LIFE-TIME WARRANTY on all electronic component parts.

This system is built for speed. The Pick -MAX2 combines the task complete button and the indicator for one touch, one glance operation. This approach maximizes capability by 20% -- 50% while maintaining real time accountability.

Sense-ME validates pick from the pick face, reducing picking mistakes due to picking from the wrong location and improving efficiency by eliminating the requirement to press a button after each pick/put.

Measuring only five inches wide the smaller Pick-MAX2 face allows higher pick densities, thereby maximizing the investment in storage and floor space with no sacrifice in functionality.

The Pick -MAX2 Pick face makes the most of its compact width. The indicator light has five colors, allowing multiple pickers per zone, batch pick, etc. The three-color display permits simple segregation of display pick information. IPTI has engineered other features to make the Pick -MAX2 face a rich source of information for pickers.

The Pick -MAX2 pick-to-light system is the easiest to install, reconfigure and maintain because of the unique and innovative IPTI "snap-in" design. IPTI's original three conductor BUS is integrated into a durable plastic extrusion to mount to any type of flow rack or static shelving.

This three conductor BUS eliminates the problems associated with two and four conductor designs. Exclusive to IPTI, the contacts on the Pick -MAX2 modules have a self-cleaning wiping design, continually clean themselves with use.

Each Pick module is dynamically assigned a unique serial number, eliminating the need to set dip-switches on every module or manage factory pre-assigned addresses. The operation saves time and prevents errors caused by duplicated or incorrect numbering.

IPTI continually develops innovative pick to light products and systems for material handling operations world-wide. The company first introduced the Snap-In BUS concept; going on to engineer products that meet a number of customer needs while creating software customized to their businesses. IPTI products utilize open architecture and are therefore the choice of integrators across the country.

Please send leads to:
Darin Danelski
President/Innovative Picking Technologies, Inc.
W1236 Industrial Dr./Ixojnia, WI 53036
Tel: 262-567-6525
Email: darin@ipti.net

More from Architectural & Civil Engineering Products