Pick-to-Light Sensor error proofs assembly applications.
Press Release Summary: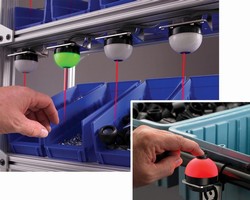 Available in no-touch and push-button models, Series K50 sensor has 50 mm translucent dome that houses highly visible LEDs of 1 or 2 colors. Retroreflective and fixed-field features provide beam-break operation, allowing users to work without having to stop and push a button after every pick. Operating on 12-30 Vdc, it features NPN (current sinking) or PNP (current sourcing) outputs, green job light, and red light for sensing acknowledgement.
---
Original Press Release:
Reliable, Easy to Operate Pick-to-Light Sensors for Error-Proofing Assembly Applications
Minneapolis, MN-April 5, 2007-Banner Engineering Corp. introduces the K50 Series of single-point pick-to-light sensors to error proof assembly applications. To indicate the status of a job pick, the K50 Series sensor has a large 50 mm translucent dome that houses highly visible LEDs of one or two colors. Priced as low as $110, K50 sensors cost far less than alternative bin-picking systems. Several models are available, including no-touch sensors and push-button models. Retroreflective and fixed-field activate when they sense the presence of a hand and visually alert the assembler of the next pick location or a mispick. Mechanical push-buttons models have a pressure-activated button. "The K50 Series sensors offer a simple, easy-to-use error-proofing solution to other bin-picking systems because they perform reliably with almost no effort from the assembler," said Joe Dolinsky, Banner's EZ-LIGHT product manager. "The retroreflective and fixed-field models provide reliable beam-break operation, allowing the assembler to work efficiently without having to stop and push a button after every pick. The push-button models require intentional activation, allowing the assembler to signal for more parts without leaving the work station." Dolinsky adds, "The entire process is much smoother, saving time and reducing the number of mistakes, thereby boosting product quality and reducing cost." Applications. The ergonomic K50 Series sensors are ideal for any application requiring a reliable single-point part-picking solution, making even the most complicated assembly process easy to follow. Examples include the following: Shows the assembler the correct order for selecting parts in a kitting operation, by displaying a green job light Confirms a pick was made Alerts the assembler that a wrong part was picked, by displaying a red light Signals destination for requested parts with a pressure-activated push button Provides a robust solution for everyday sensing tasks Several features of the K50 Series sensors make them particularly easy to install and use: Offers a unique design with 50 mm large translucent dome and one or two lights Rated to IP69K (some models); rugged, fully-encapsulated construction Available in fixed-field background suppression models with 50 or 100 mm cutoff for tight mounting areas and areas near moving parts or active machines Offers polarized retroreflective models with an extended 2 m sensing range Includes push-button models with a pressure-activated button for protection against accidental activation Provides AS-i module compatibility Includes 30 mm threaded mounting hub Simplifies installation with dozens of mounting options, including stainless-steel or reinforced thermoplastic polyester; angled, through-hole, split-clamp or swivel mount for installation on a flat surface or 28 mm pipe; or custom-made configurations Available with 2 m integral cable, Euro-style integral quick disconnect, or 150 mm PVC or PUR pigtail with Euro-style quick disconnect Specifications. The K50 Series operates on 12 to 30V dc and includes either NPN (current sinking) or PNP (current sourcing) outputs. All models include a bright green job light. Models are available with a red light for sensing acknowledgement, to aid in alignment or to verify visually that the sensor is functioning properly. About Banner. Banner Engineering is the world's leading manufacturer of photoelectric sensors, vision and ultrasonic sensors, fiber optic assemblies, electronic machine guarding systems and precision measurement systems. For further information, contact Banner Engineering Corp., 9714 Tenth Avenue North, Minneapolis, MN 55441. PH: 888.373.6767 (Toll-free North America), or 001.763.544.3164 (International). FAX: 763.544.3213. Email: sensors@bannerengineering.com. E-commerce: buybanneronline.com Web: www.bannerengineering.com Direct link to product information: www.bannerengineering.com/K50
Related