Pick and Hold PWM Modules are adjustable and reprogrammable.
Press Release Summary: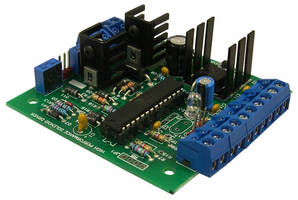 Based on MCU that can be reprogrammed for application, 3.00 x 3.00 x .85 in. PH-ET Pick and Hold modules operate on single supply from +9 to +50 Vdc and are suited for driving solenoids, valves, relays, actuators, DC motors, hydraulics, electromagnets, and LEDs. Holding current is 4 A RMS with peak (Pick) current of 15 A for high force/acceleration. Higher current and voltages are also available. Pick voltage timing and hold voltage are adjusted using onboard potentiometers.
---
Original Press Release:

Small, Low Cost, Highly Reliable, "Pick & Hold" PWM Modules Available from OES!



Van Nuys, CA — Optimal Engineering Systems, Inc. (OES) offers a very low cost solution for solenoid control electronics.  In Pick & Hold applications a higher (Pick) force is required initially and then a switch is made to a lower continuous (Hold) force.  This compact (3.00 in. x 3.00 in. x .85 in.) is highly efficient, PH-ET "Pick & Hold" module is easy to integrate into new and existing applications.  This module is based on a micro-controller that can easily be reprogrammed for your application. This very reliable module is ideal for driving: Solenoids, valves, relays, actuators, DC motors including voice coil and moving magnet linear motors, hydraulics, electromagnets, and LEDs.



These off-the-Shelf PWM "Pick & Hold" modules operate on a single supply voltage from +9 VDC to +50 VDC.  "Holding" current is 4 Amps RMS with a peak or "Pick" current of 15 Amps for high force and/or acceleration. Higher current and voltages are also available.



Used with an SCC-01 Solenoid Controller Card from OES up to 16 "Pick & Hold" PWM Modules can be controlled.  In each unit a Snubber Diode is incorporated to suppress voltage spikes.  PH-ET "Pick & Hold" modules accepts a TTL command voltage of 0 to 3 VDC, or 4 to 20  mAmps signals. The pick voltage timing and hold voltage are easily adjusted using onboard potentiometers, and these modules are Eco-Friendly, RoHS compliant.



About OES – Optimal Engineering Systems, Inc. (OES) is a manufacturer of motion control products including: Stepper motor controllers and drivers, solenoid electronics, and positioning stages and slides.  Applications include: Animation, automated assembly systems, automation, CNC machines, flight simulation, inspection systems, linear and rotary stages, machine tools, medical devices, motion control camera boom systems, optical comparators, CMMs, pan-tilt gimbals, PCB assembly & inspection, pick-and-place, positioning stages, robotics, scanners, security cameras, telescope drive mechanisms, time-lapse photography and winders.



Some of the industries OES serves are: Aerospace, Astronomy, Chemical, Communications, Educational Institutes, University, Colleges, Government Agencies, National Labs, Manufacturing, Medical, Metrology, Military, Motion Control, Museum, News Agencies, Semiconductor and Test Equipment.  Optimal Engineering Systems, Inc's. competitive advantage is its state-of-the-art in-house manufacturing facility in North America enabling OES to supply clients with custom designed orders or high volume just-in-time deliveries globally.



For additional information, contact Joseph Hank  at: OES, 6901 Woodley Ave.;

Van Nuys, CA 91406; Telephone: 888-777-1826 or +1 818-222-9200, or E-Mail: sales@oesincorp.com or visit the Web site at: http://www.oewincorp.com.



For additional information regarding this release

prior to publication please contact--

More from Computer Hardware & Peripherals