Piano Box, Chest, and Cabinet provide secure storage.
Press Release Summary: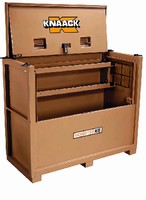 Monster Box(TM) products have 4-point crane lift system that supports 2,500 lb of gross weight, and integrated recessed lock that is weather-resistant and UL-rated drill-resistant. Weatherproof Power Pass(TM) grommet allows pass through of electrical cords for battery charging with box closed. At 30 x 66 x 55 in., Piano Box offers storage capacity of 48 cu-ft, while Cabinet has same dimensions with capacity of 52 cu-ft. Chest features 30 x 66 x 36 in. frame and provides 31 cu-ft capacity.
---
Original Press Release:

Knaack Introduces New Monster Box(TM) Piano Box, Chest, and Cabinet For Durable, Secure Storage Solutions



CRYSTAL LAKE, ILL. - November 2007 - Knaack LLC's new Monster Box(TM) Series, featuring the Piano Box (Model 1000), Chest (Model 1010), and Cabinet (Model 1020), is a durable and secure storage option for jobsites. With its exclusive heavy-duty tubular steel framing, four-point crane lift system, integrated UL-rated drill-resistant lock, and Power Pass(TM) electrical pass-through, the Monster Box is revolutionizing jobsite security.

At 30 inches wide, 66 inches long and 55 inches high, the Piano Box has a storage capacity of 48 cubic feet. With two fixed shelves and a rack for hanging fall protection equipment, the Piano Box provides optimal storage and organization.

Having the same dimensions as the Piano Box, the Cabinet has a storage capacity of 52 cubic feet. The cabinet is constructed with two fixed, full width shelves, one adjustable full width shelf, and shelves in its doors. With the bottom shelf at its highest setting, five-gallon buckets fit on the bottom. The weather seal improves weather resistance. An open design without a center post allows for maximum storage and accessibility, while its short, wide construction is stable for jobsite use.

The Chest holds 31 cubic feet and has a 30-inch wide, 66-inch long and 36-inch high frame. It is designed with a deep cover for strength and security. The Chest also features a heavy-duty single cover support for easy cover closing.

In addition to the specific features of the Piano Box, Cabinet, and Chest, several Monster Box features apply to all three models.

Monster Box's four-point crane lift system supports 2,500 pounds gross weight (box included). The lift system facilitates center-point rigging to hoist much more safely than with two-point/bar lift systems. This transforms a seemingly tough job into a simple and safe one instead.

The series' new integrated recessed lock is the only UL-rated drill-resistant, weather-resistant lock in the jobsite category. Its high-level security lock is virtually impervious to drilling and pry-ins.

The weatherproof Power Pass(TM) grommet allows pass through of electrical cords for battery charging with the box closed or even when locked overnight.

The heavy-duty hinges on the Monster Box are extra durable and pry-in resistant. Fixed handles on the ends are recessed to stay out of the way and allow for easy gripping when needed. Heavy-duty accessory casters are available.

Knaack LLC makes and markets a complete line of KNAACK Jobsite Storage Equipment, including storage chests, work stations and rolling work benches that keep jobsites organized and productive and tools secure. A variety of boxes are offered to meet the unique demands of each task. It also makes and markets WEATHER GUARD Van Solutions and WEATHER GUARD Truck Equipment.

For more information, please contact: Knaack LLC, 420 E. Terra Cotta Avenue, Crystal Lake, IL 60014. Toll Free Phone: 800.456.7865. Web: www.knaack.com. E-mail: contact_1@knaack.com.

Emerson Professional Tools(TM)
Emerson Professional Tools, a business of Emerson, brings together technology and engineering to design and produce some of the highest-quality tools and equipment in the world. From wet/dry vacs to the industry's best-selling pipe diagnostic system, key brands include RIDGID®, KNAACK®, and WEATHER GUARD®. For more information, visit emersonprofessionaltools.com.

About Emerson
Emerson (NSYE:EMR), based in St. Louis, Missouri, is a global leader in bringing technology and engineering together to provide innovative solutions to customers through its network power, process management, industrial automation, climate technologies, and appliance and tools businesses. Sales in fiscal 2006 were $20.1 billion. For more information, visit www.GoToEmerson.com.

Please send inquiries to: contact_1@knaack.com

More from Laboratory and Research Supplies and Equipment