Phytoceramides with Oryza Ceramide-PCD®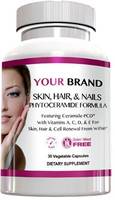 Tru Body Wellness offers Phytoceramides with Oryza Ceramide-PCD® as part of its product line up. This all-natural rice-based supplement helps moisturize the skin from the inside out.*
Don Wiencek, President, commented, "Ceramide-PCD has been sold in Japan since 2001 and recognized by the Japanese government for its health benefits for the skin."
Tru Body Wellness' Phytoceramides:
Your skin cells are bound by fatty lipid cells that are made up of 40% ceramides. These ceramides degrade with age causing a weakening of the skin barrier resulting in dry skin, fine lines and wrinkles.
Phytoceramides with Ceramide-PCD replenishes these ceramides, helping to rebuild the skin barrier allowing your skin to retain more moisture so that it feels softer and appears hydrated and refreshed.*
By rebuilding the skins outer layer, Ceramide-PCD has been clinically tested to improve moisture retention, thereby minimizing the appearance of fine lines and wrinkles.*
Ceramide-PCD also contains Elasticamide, a natural human ceramide, with improved whitening effect for a more evenly toned complexion and reduction in dark spots and sun damage.*
Ceramide-PCD is a rice-derived ceramide that is non-GMO, gluten-free, vegetarian, and vegan friendly.
Clients may private label Phytoceramides at 100 bottles. Custom formulation options are available starting at 500 bottles.
To get more information, please call a sales representative at (877) 419-4004, or send an email to Sales@TruBodyWellness.com.​
About Tru Body Wellness
Tru Body Wellness specializes in private labeling dietary supplements. Minimum orders of standard products start around 100 bottles and include free label design with order. Additionally, custom formulas can be provided starting at an industry low of 500 bottles for capsules and 1500 bottles for liquids, and powders. All products are made in FDA inspected and cGMP certified facilities in the US.
Please visit our web site at TruBodyWellness.com.
*These statements have not been evaluated by the Food and Drug Administration. This product is not intended to diagnose, treat, cure or prevent any disease.
Ceramide-PCD® is a registered trademark of Tru Body Wellness.
Copyright 2022 Tru Body Wellness
Related