PHY Test Suite simplifies USB3.1 compliance testing.
Press Release Summary: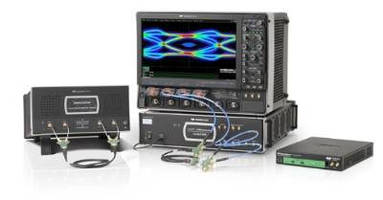 Providing automated transmitter and receiver compliance testing, characterization, and debug, QPHY-USB3.1-Tx-Rx Software can perform tests on both 5 Gbps Gen1 and 10 Gbps Gen2 devices according to USB 3.1 specifications. Tx testing is performed using 16 GHz oscilloscope, while Rx testing is performed using PeRT(3) Protocol Enabled Receiver and Transmitter Tolerance Tester. QualiPHY automated test framework provides connection diagrams, automated oscilloscope operation, and report generation.
---
Original Press Release:

New USB 3.1 End-to-End Test Suite Provides Comprehensive Solution for Transmitter, Receiver, Protocol, and Cable/Connector Testing



Automated Physical Layer Test Package Simplifies USB3.1 Compliance Testing



CHESTNUT RIDGE, N.Y., – Teledyne LeCroy today introduces the QPHY-USB3.1-Tx-Rx package for automated USB 3.1 transmitter (Tx) and receiver (Rx) compliance testing, characterization, and debug, creating a unique and comprehensive USB 3.1 test suite. With the new test package, USB 3.1 testing can be performed on both Gen1 (5 Gb/s) and Gen2 (10 Gb/s) devices under test according to the latest USB 3.1 specifications. Tx testing is performed using a high-bandwidth 16 GHz oscilloscope while Rx testing is performed using the Protocol Enabled Receiver and Transmitter Tolerance Tester (PeRT(3)). The new QPHY-USB3.1-Tx-Rx software leverages the QualiPHY automated test framework which provides connection diagrams, automated oscilloscope operation, and report generation.



Integrated Transmitter/Receiver Test Solution

Combining the powerful capabilities of a Teledyne LeCroy oscilloscope with the unique features of the PeRT(3), creates an integrated Tx/Rx solution. For example, the QPHY-USB3.1-Tx-Rx software will fully automate Tx testing by requesting the DUT to change compliance patterns for each test, and the receiver calibration process is completely automated by allowing the oscilloscope to communicate directly with the PeRT(3). This combination simplifies the test process and saves time. The QPHY-USB3.1-Tx-Rx software provides one unified interface for performing both Tx and Rx testing. Competitive solutions require different test environments and complex, multi-instrument setups which complicate the testing process and add cost.



Beyond USB 3.1 Physical Layer Testing

Teledyne LeCroy is the only test and measurement instrument provider that offers a complete line of USB 3.1 test solutions covering transmitter, receiver, protocol, and cable/connector compliance, characterization, and debug. All USB 3.1 testing can be accomplished with a single point of procurement and support. In addition to the transmitter/receiver test solution, the test suite also includes the Voyager M310C protocol analyzer and the SPARQ network analyzer.



The Voyager M310C is a multifunction platform with integrated USB Exerciser option supporting both host and device emulation up to 10 Gb/s line speed, which allows the user to transmit custom packets with low-level control of headers, payloads, timing and link states and error injection. Along with Type-C connectors, the Voyager M310C supports power delivery in analyzer and exerciser modes, including the ability to act as either source or sink as a power delivery end point.



The Teledyne LeCroy SPARQ Signal Integrity Network Analyzer can be used to measure insertion loss, impedance, and crosstalk measurements on USB 3.1 transmitters, receivers, and cables. The SPARQ is a TDR/TDT-based analyzer that easily measures S-parameters with just a single button press, and at a fraction of the cost of a VNA.



Teledyne LeCroy's coordinated USB 3.1 test solutions ensure the right support for every stage of development, debug and compliance.



Pricing

QPHY-USB3.1-Tx-Rx is available for $8,000. Oscilloscopes capable of testing USB 3.1 start at $158,900 and a PeRT(3)capable of testing USB 3.1 starts at $182,000.



About Teledyne LeCroy

Teledyne LeCroy is a leading manufacturer of advanced test instruments that measure, analyze, and verify complex electronic signals. The Company offers high-performance oscilloscopes and protocol test solutions used by electronic design engineers in a wide range of application and end markets. Teledyne LeCroy is based in Chestnut Ridge, N.Y. For more information, visit Teledyne LeCroy's website at teledynelecroy.com.



About QualiPHY

QualiPHY, Teledyne LeCroy's automated test engine, is designed to reduce the time and effort needed to perform compliance testing on a wide array of high-speed serial buses. QualiPHY is the most intuitive and efficient tool available for performing serial data compliance testing. Selecting a new standard or test setup is done without leaving the main screen, and the user can start testing with a single button press. QualiPHY may be executed directly on the host oscilloscope, or it may be run on a computer located anywhere in the world, accessing the oscilloscope via LAN/WAN connections. The framework offers flexible reporting including pass/fail indications and screenshots from pertinent tests.



© 2015 by Teledyne LeCroy. All rights reserved. Specifications are subject to change without notice.



Media contact:  

Kathleen Woods

Communication Manager

(845) 578-4455



Editors' Technical contact:  

Bob Mart

Product Marketing Manager  

(845) 425-2000



Customer contact: 

Teledyne LeCroy Customer Care Center 

(800) 553-2769



Website:  teledynelecroy.com

More from Non-Industrial Products