PHY Management Products support high-density applications.
Press Release Summary: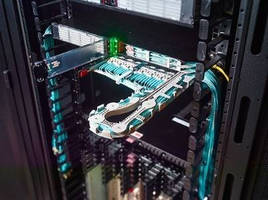 Combining hardware and software elements with connection point identification technology, Quareo Physical Layer Management System provides state of physical network at all times. NG4access optical distribution frame, featuring Quareo technology (QNG4), offers access to high-density fiber terminations up to 3,456 fibers/frame. High-density 1RU fiber optical panel, featuring Quareo technology (QHDEP), provides 6 access trays, each serving up to 24 LC fiber connections or 8 MPO fiber connections.
---
Original Press Release:
TE Expands Quareo Physical Layer Management Product Family
New QNG4 and QHDEP Frame and Panels Support Higher-Density Applications

MINNEAPOLIS, – TE Connectivity (TE), a world leader in connectivity, today announced that it has expanded its Quareo family of physical layer management (PLM) solutions with additional products featuring connection point identification (CPID) technology. Quareo PLM solutions enable higher network availability while reducing network costs by integrating full visibility of the physical layer into existing network management applications. The new products expand options for central office and data center network architects who want to implement physical layer management to gain an accurate, real-time view of the physical network.

TE's Quareo PLM system is an end-to-end solution, combining hardware and software elements and CPID technology to provide accurate visibility on the state of the physical network at all times. It enables easier, smarter network management for everyone from cable installers to network managers, strengthening physical security, boosting availability and providing real-time communication with network assets.

The new NG4access optical distribution frame (ODF) featuring Quareo technology (QNG4), provides superior access to high-density fiber terminations up to 3,456 fibers per frame. With innovations in access trays, universal adapter packs, cabled modules and multifiber push-on (MPO) modules, installing and maintaining large amounts of fiber can be done faster, easier and less expensively than previous ODF solutions available on the market.

The high-density equipment panel featuring Quareo technology (QHDEP), is a 1RU fiber optic panel with six technician-friendly access trays. Each tray features a mounting location for holding one LC or MPO adapter pack, or MPO module or cabled module. A single access tray can serve up to 24 LC fiber connections or 8 MPO fiber connections. At full capacity, the QHDEP will hold up to 144 (LC), 576 (12F MPO), or 1,152 (24F MPO) fiber connections. With many different adapter packs and modules this allows for quick modular deployment for 10, 40 and 100 Gigabit Ethernet links which can be mixed in the same high-density equipment panel (QHDEP) chassis. These modules can be changed or upgraded without disturbing adjacent cables.

"By providing a real-time comprehensive picture of every connection point in the physical layer, Quareo PLM significantly improves productivity and efficiency of physical layer management and maintenance processes while reducing downtime and operating costs," said Pat Thompson, director of Product Management at TE. "These additions to the Quareo PLM product portfolio further extend our physical layer management technology by enabling higher-density connectivity."

ABOUT TE CONNECTIVITY
TE Connectivity (NYSE: TEL) is a $14 billion global technology leader. Our connectivity and sensor solutions are essential in today's increasingly connected world. We collaborate with engineers to transform their concepts into creations - redefining what's possible using intelligent, efficient and high-performing TE products and solutions proven in harsh environments. Our 80,000 people, including 7,500 design engineers, partner with customers in over 150 countries across a wide range of industries. We believe EVERY CONNECTION COUNTS - www.TE.com.

TE Connectivity, TE connectivity (logo), TE (logo), EVERY CONNECTION COUNTS, NG4access and Quareo are trademarks.

All other logos, products and/ or company names referred to herein might be trademarks of their respective owners.

© 2015 TE Connectivity Ltd. family of companies. All Rights Reserved.

Contacts: 
Media Relations:
Colleen Murphy-Gomez
TE Connectivity
952-917-0279
colleen.murphygomez@te.com

Web Site: http://www.te.com
More from Laboratory and Research Supplies and Equipment