Phototransistor Optocouplers have low-profile design.
Press Release Summary: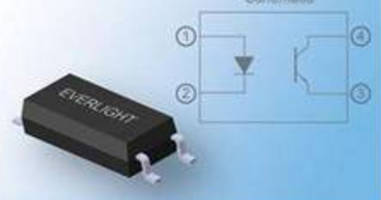 Supplied in package with 2 mm max height and 2.54 mm lead pitch, EL101X-G series of 4-Pin SOP phototransistor optocouplers enables power supply designers to derate their boards up to 110°C. Characteristics include 5,000 Vrms isolation voltage, minimum creepage and clearance distance of 8 mm, and 80 V breakdown voltage. Halogen-free, Pb-free, and RoHS-compliant, product also offers multiple selectable current-transfer-ratio (CTR) bins and operates from -55 to +110°C.
---
Original Press Release:

Everlight's New Long-Body, Low Profile 4-Pin SOP Phototransistor Optocouplers Offer the Best Combination of Electro-Optical and Mechanical Features for Improving System Performance



Tucheng, Taipei -- Everlight Electronics Co. Ltd. (TSE:2393)

EL101X-G series incorporates wide operating temperature range, tight CTR binning, high isolation voltage, long creepage and clearance, and high BVceo in an ultra-low-profile package

Everlight Electronics Co. Ltd. (TSE:2393) introduces a new family of long-body, low-profile 4-Pin SOP phototransistor optocouplers offering the best combination of key specifications sought after by designers looking to optimize high-temperature performance in feedback loop, and microprocessor system interface in power supplies as well as other applications requiring isolation. These optocouplers are packaged in an ultra low-profile (2mm) package which exhibits high isolation voltage of 5000 Vrms, minimum creepage and clearance distance of 8 mm, wide operating temperature range (-55°C to +110°C), multiple current-transfer-ratio (CTR) bins and high breakdown voltage of 80 V. The new EL101X-G series comprises 7 devices well suited for use in DC-DC converters, battery chargers, general-purpose switching circuits, programmable controllers, white goods and industrial automation. Compared with conventional optocouplers, the EL101X-G devices offer important advantages, including:

- Smaller form-factor (2 mm maximum package height and 2.54 mm lead pitch) to accommodate designs with limited board real estate. Compared to traditional 4-Pin DIP and 6-Pin DIP packages, designers can save up to 18% and 53% respectively on board space.
- The longer package body allows for a true SOP package to meet longer creepage and clearance distances of 8mm minimum.
- Higher isolation voltage (5000 Vrms, 1 minute) vs. standard 4-Pin SOP couplers (3750 Vrms, 1 minute) to improve insulation characteristics
- Higher temperature operation (110°C vs. 100°C) to improve system reliability
- Selectable CTR ranges ranging from minimum 22% to 200% characterized at low LED currents, increasing design options and flexibility
- Halogen-free, Pb-free and RoHS compliant to meet green environmental initiatives

The EL101X-G series now enables power supply designers to derate their boards up to 110°C while using an ultra-low-standoff-height device that accommodates their low-profile. The improved insulation characteristics resulting from the long body package style provides for wider margin of safety in applications, and greater design flexibility for high-end applications. The end result is that the new EL101X-G family builds on Everlight's existing portfolio of high reliability optocouplers and reputation in meeting the needs for today's designs.

For more information on Everlight's broad Optocoupler portfolio, please see Everlight Optocouplers
Availability: Now
Delivery: 4 weeks, ARO. (Sales contact information)

About Everlight Electronics Co. Ltd.
Everlight Electronics Co. Ltd is a fast-growing global manufacturer of LEDs, displays, infrared and optocoupler components serving various applications in the lighting, consumer, computing, automotive, telecommunication and industrial market segments. Everlight's annual growth over the past ten years is the combined result of its well-engineered products, highly efficient in-house manufacturing facilities and extensive global supply chain. Founded in 1983, Everlight today is a $300 million company headquartered in Taipei, Taiwan, with over 4,000 employees and operations in China, Asia, North America and Europe.

Please visit us at www.everlight.com
Press Contact: pr@everlight.com

More from Architectural & Civil Engineering Products