Sensors / Detectors / Transducers
Photosensor suits IR video and audio transmission.
Press Release Summary: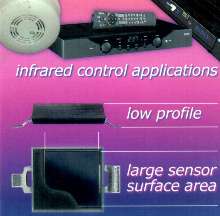 Surface mount Model QSB34 has surface area of 9 mm² and reception angle of 120°. Lead-free packaging creates integral, transparent daylight filter that is optimized for reception of 880-940 nm wavelength light. Low 25 pF capacitance and small series resistance typically delivers rise time and fall time of 20 ns. Gull wing configuration is available for top side mounting, while X-Bend configuration provides under board mounting.
---
Original Press Release:

Fairchild Semiconductor's New High-Performance, Low-Profile IR Photosensor: Ideal for Remote Control, Sensing and Measurement


San Jose, CA-September 15, 2003-Fairchild Semiconductor (NYSE: FCS) announces its QSB34, offering excellent design flexibility by providing a broad range of high-performance features and specifications in compact, surface-mount packaging. The PIN photodiode sensor has a large surface area of 9mm² (3mm X 3mm) and a reception angle of 120°. Its packaging creates an integral, transparent daylight filter that is optimized for reception of 880 to 940nm wavelength light. These features provide outstanding sensitivity and reception and, even with the filter the flux, response is typically 0.4 A/W at 900nm.

The diode's low, 25pF capacitance and small series resistance typically delivers a rise time (tr) and fall time (tf) of 20ns. Dynamic signal range is typically 60dB, and the QSB34 also offers very good dc signal linearity and low noise.

Fairchild's QSB34 features a low profile (1.25mm height from mounting surface), and is available in two surface mount configurations: gull wing (QSB34GR) for top side mounting, and reversed X-Bend (QSB34ZR) for under board mounting. The flat, low-profile package of the QSB34GR makes it well suited for use with an auxiliary lens for focused image sensing. Additionally, the QSB34ZR can be mounted on the rear of the PCB allowing for inclusion of a screen for EMI shielding.

According to Fairchild's Infrared Product Marketing Manager, Livio Lascu, "The QSB34 provides solutions for a wide variety of applications where a large area photodiode is required. It may be paired with Fairchild's IR light emitting diodes (LED) to optimize performance for specific applications. For example, the sensitivity and speed of a QSB34 photosensor make it an ideal companion for the higher radiant intensity (Ie) of a QED 123 LED in the critical operation of a smoke detector. Likewise, the wide signal reception angle of a QSB34 photosensor, used in conjunction with the lower power consumption of a QED234 LED, make the pair ideal for remote control applications in set-top receivers, DVD players, and other consumer electronic products. The QSB34 is also ideal for applications such as IR audio and video transmission and IR radiometric measurement systems."

Fairchild's QSB34 comes in lead-free packaging that meets or exceeds the requirements of the joint IPC/JEDE3C standard J-STD-020B and is compliant with the European Union requirements, which will take effect in 2005. Both configurations of this product are available in tape and reel quantities of 1,000 units and can sustain an IR reflow temperature of 240°C for a maximum of 5 seconds.

The QSB34 further expands Fairchild's product offerings for motion and speed control including IR emitters/detectors,
reflective/transmissive sensors, and LEDs.

Price: US $0.22 (1,000 pcs)
Availability: 5 weeks leadtime for delivery

For more information about this product go to www.fairchildsemi.com/pf/QS/QSB34.html. For information on other
Fairchild products, design tools, and sales contacts, please visit www.fairchildsemi.com.

A data sheet for the QSB34 is available at www.fairchildsemi.com/ds/QS/QSB34.pdf.

About Fairchild Semiconductor:
Fairchild Semiconductor (NYSE: FCS) is a leading global supplier of high performance products for multiple end markets. With a focus on developing leading edge power and interface solutions to enable the electronics of today and tomorrow, Fairchild's components are used in computing, communications, consumer, industrial and automotive applications. Fairchild's 10,000 employees design, manufacture and market power, analog & mixed signal, interface, logic, and optoelectronics products from its headquarters in South Portland, Maine, USA and numerous locations around the world. Please contact us on the web at www.fairchildsemi.com.

More from Fluid & Gas Flow Equipment