Photoresist Oven allows automated handling of 300 mm wafers.
Press Release Summary: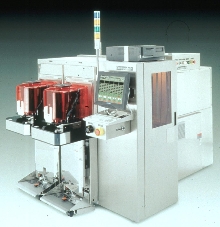 Company's 300mm Automated Photoresist Bake Oven offers 2 Front-Opening Unified Pod (FOUP) loadport stations with atmospheric Class 1 clean room-compatible robots and optically based Class 1 laser cassette mapping sensors. Its 2 heat treatment chambers hold 25 wafers each during photoresist bake cycle. Temperature uniformity is +/-1.5 deg C at 95 deg C operating temperature (150 deg C max). It also includes active cooling.
---
Original Press Release:
New Despatch Automated Photoresist Bake Tool to Improve Wafer Production

First-of-its-kind automated processing designed specifically for 300mm wafers

MINNEAPOLIS, (April 18, 2002) - To improve the productivity of semiconductor manufacturers, Despatch Industries introduces the new 300mm Automated Photoresist Bake Oven, the first photoresist oven to allow automated handling of 300mm wafers.

The Despatch 300mm oven features two Front-Opening Unified Pod (FOUP) loadport stations with atmospheric Class 1 clean room-compatible robots and optically based Class 1 laser cassette mapping sensors which seamlessly interface with a manufacturer's automated wafer handling system. By utilizing automated handling for photoresist baking, semiconductor manufacturers can increase throughput and eliminate errors associated with manual handling of 300mm wafers.

Increased automated wafer handling also improves ergonomic safety for a manufacturer's employees. A fully loaded FOUP weighs up to 10 kg and exceeds the weight limit for repetitive human handling set by the Occupational Safety and Health Administration (OSHA).

"This oven will help manufacturers more efficiently and cost-effectively produce 300mm wafers and improve employee safety," said Hans Melgaard, vice president of research and development, Despatch. "Our experience in 300mm automated wafer handling and in designing and manufacturing semiconductor thermal processing equipment enabled us to create this integrated system."

The oven's two heat treatment chambers hold up to 25 wafers each (50 total) during the photoresist bake cycle. To increase throughput, which varies depending on the length of the photoresist bake cycle, manufacturers may specify that Despatch add additional heat chambers to the system. The oven fully complies with 300mm SEMI communication standards and features a graphical user interface (GUI) for easy operator use.

Measuring approximately 88 inches wide by 103 inches long, the footprint of the Despatch 300mm oven is small enough to help manufacturers conserve clean room floor space. Other features of the Despatch 300mm oven include:

- A dry, inert baking atmosphere

- Temperature uniformity plus/minus 1.5C at 95C operating temperature (150C maximum temperature)

- Active cooling for quick cool-down

- HEPA filtration standard

- Complies with SEMI S2/S8 and SEMATECH safety standards

About Photoresist Baking of 300mm Wafers

Semiconductor manufacturers apply a photoresist coating as part of 300mm wafer processing. Photoresist is a polymer layer that is coated onto the wafer and patterned using photolithography tools to make a circuit pattern. Heat-treating the photoresist layer onto the 300mm wafer is a necessary part of the process.

About Despatch Industries
Despatch Industries, which is closely held, was founded in 1902. The company specializes in the design and manufacture of thermal processing applications for a number of industries, including aerospace and automotive metals, electronics processing, pharmaceutical sterilization and heat processing of plastics, ceramics, coatings and other materials. Visit Despatch at www.despatch.com.

For more information, contact:

Despatch Industries

63 St. Anthony Pkwy.

Minneapolis, MN 55418

Phone: 1-800-828-9903

fax 952-469-4513

info@despatch.com
More from Electrical Equipment & Systems