Photonic Crystal Fibers suit laboratory research.
Press Release Summary: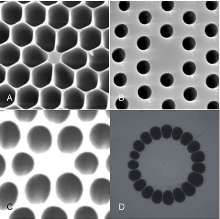 Photonic Crystal Fibers (PCF) contain air voids or holes, which serve 2 purposes; central hole forms hollow core fiber suitable for carrying high laser power levels, while arrays of tiny through holes lower effective refractive index of glass fiber core and/or cladding. Products include endlessly single mode fiber, hollow core fiber, polarization preserving fiber, photonic bandgap fiber, and fiber with non-linear performance.
---
Original Press Release:

Newport Launches Photonic Crystal Fiber Product Line


Irvine, California - February 9, 2004 - Newport Corporation now supports the burgeoning market for Photonic Crystal Fibers (PCF) with the introduction of a comprehensive line of pre-packaged products targeted at laboratory research. The initial product offering comprises all PCF types, including endlessly single mode fiber, hollow core fiber, polarization preserving fiber, photonic bandgap fiber and fiber with highly non-linear performance. Specific products include bare fibers as short as 1 meter, fibers with sealed ends, and connectorized fibers. These PCF products are fabricated by Crystal Fiber A/S, under an exclusive agreement with Newport Corporation

Ron Hartmayer, Director of Marketing, Photonic Products, notes that, "Applications for PCFs are at a very nascent and critical stage. As with previous new photonics technologies, Newport's goal is to support and nurture these applications at the research level with the convenience of 'off the shelf' products."

Photonic Crystal Fibers are fibers containing air voids or holes. These holes can serve two purposes. A central hole can be used to form a hollow core fiber suitable for carrying very high laser power levels, as in robotic materials processing. These types of hollow-core fiber can also feature very low transmission losses over extended distances. Arrays of tiny through holes are also used to lower the effective refractive index of the glass fiber core and/or cladding, without the problems introduced by doping. This approach can be used to provide single mode performance over a very large wavelength range. Other fibers yield very high non-linear coefficients and can be used to generate ultra-broadband (supercontinuum) light when pumped with femtosecond pulsed lasers. Ytterbium doped PCFs are also available to form the basis of high performance lasers or optical gain amplifiers.

More information on Newport's comprehensive line of PCF products is available on the company's Web site at newport.com/pcfpr

About Newport Corporation

Newport Corporation is a leading global supplier of advanced technology products and systems to the semiconductor, communications, electronics and research markets. The company provides components and integrated subsystems to manufacturers of semiconductor processing equipment, advanced automated assembly and test systems to manufacturers of communications and electronics devices, and a broad array of high-precision components and instruments to commercial, academic and government customers worldwide. Newport's innovative solutions leverage its expertise in precision robotics and automation, sub-micron positioning systems, vibration isolation and optical subsystems to enhance the capabilities and productivity of its customers' manufacturing, engineering and research applications. Newport is part of the Standard & Poor's Midcap 400 Index and the Russell 2000 Index. For more information, visit www.newport.com, or contact the company at 1791 Deere Avenue, Irvine, California, 92606, USA, Tel. (In U.S.) (800) 222-6440; Tel: (949) 863-3144; Fax: (949) 253-1800.

Company Contact:

David Rossi
Director of Marketing
Tel: 949.863.3144
Fax: 949.253.1800
E-mail: drossi@newport.com

Ron Hartmayer
Director of Marketing, Photonics
Tel: 949.757.2125
Fax: 949.253.1983
E-mail: rhartmayer@newport.com

More from Fluid & Gas Flow Equipment