Photometer communicates with smartphones and tablets.
Press Release Summary: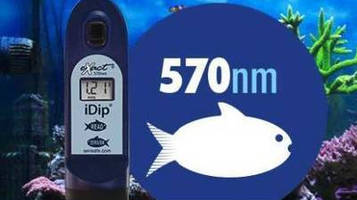 Integrating 2-way wireless communication with smartphone or tablet, eXact iDip® 570 is suitable for measuring water quality for aquarium/aquatic life in both fresh and marine water settings. eXact iDip® app comes with 4 tests installed including pH, Free Chlorine, Combined Chlorine, and Total Alkalinity. Multilingual app enables test parameter customization, mobile sharing, and data organization.
---
Original Press Release:

Industrial Test Systems is Proud to Announce the Release of the eXact iDip® 570 Photometer, the Second Installment of the eXact iDip® Smart Photometer System® Line



The eXact iDip® 570 photometer is the perfect tool for measuring the water quality for aquarium/aquatic life in both fresh and marine water settings. Using the patented eXact iDip® Smart Photometer System®, the meter is the first and only to integrate 2–way wireless communication with a smartphone/tablet. The multilingual app is the brain of the system which allows limitless possibilities including lab accuracy, free upgrades, test parameter customization (with 12 available at launch, 13 in the works to be released at a later date, and more to come), mobile sharing, and data organization.



The eXact iDip® app comes with 4 tests installed including pH, Free Chlorine, Combined Chlorine (Chloramines) and Total Alkalinity. Over 35 additional parameters are available for in app purchase ($4.99/ea), so you can tailor the eXact iDip® Smart Photometer System® to suit your needs at a fraction of the cost of competing photometers.



About Industrial Test Systems, Inc.

For over 25 years, Industrial Test Systems, Inc. has been a leading manufacturer and developer of instruments and chemistries designed to test water quality. ITS caters to the water testing needs of municipal water treatment, food beverage, trucking & automotive, pond & aquarium, pool & spa, educational and medical diagnostic industries. ITS has developed over 100 tests and proprietary chemistries (many of which have been ETV/EPA performance-verified), including the first and only EPA approved test strip.



For more information on any of the products offered by ITS, please contact a knowledgeable ITS Product Manager by calling 803-329-9712 or toll-free at 1-800-861-9712.  For additional information, visit us online at http://www.sensafe.com/exact-idip-570nm/ or by sending an inquiry via email to its@sensafe.com.



Press contact:

Mike McBride

Marketing Manager

803-329-9712

mmcbride@sensafe.com







More from Machinery & Machining Tools