Photoluminescent Signs exceed APTA safety requirements.
Press Release Summary: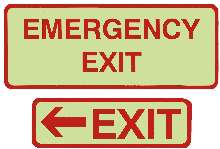 BRADYGLO(TM) glow-in-the dark signage facilitates safe and orderly exit of people from passenger rail cars when power goes out by providing solution for clearly marking egress and access signs. Materials exceed APTA requirements for lighting pathways in complete darkness; are safe and non-toxic; and exceed all safety standards, including ASTM, OSHA, and NFPA.
---
Original Press Release:

Bradyglo(TM) Photoluminescent Signs and Materials Exceed APTA Passenger Rail Car Safety Requirements


Federally adopted standards require egress signage that is clearly visible during emergency situations.

MILWAUKEE - (December 11, 2003) The recent blackout that affected much of the northeastern United States highlighted a number of potentially serious safety issues, including the safe and orderly exit of people from passenger rail cars when the power goes out. The ingredients for panic and chaos are there in the event of a power outage: It's an emergency, and a passenger rail car packed with people is suddenly plunged into darkness. The situation is even more frightening if the passenger rail car is operating in a blacked out subway.

Emergencies like the blackout are what prompted the American Public Transportation Association to develop standards for low-location pathway markings and signage for egress/access of passenger rail equipment several years ago. The standards, which were adopted by the Federal Railroad Administration in 1999, require car interiors to have lighted signage that operates independent of the cars' electrical system. Passenger rail systems that run on interstate track are required to follow federal regulations and must make their passenger rail cars compliant by 2006. However, a number of passenger systems not subject to the federal rules have chosen to voluntarily follow the APTA standards.

According to George Sloan, executive manager of identification marketing for Brady Worldwide, Inc., a manufacturer of identification and safety products, photoluminescent "glow-in-the dark" signage provides a solution for clearly marking the cars.

"Great strides have been made in the development of photoluminescent materials that now exceed the rigid requirements called for in the APTA standards for lighting a pathway, even in complete darkness," said Sloan. "These materials are safe, non-toxic and also exceed all safety standards, including ASTM (American Society for Testing & Materials), OSHA (Occupational Safety & Health Administration) and NFPA (National Fire Protection Association)."

The APTA standard for low-location (close-to-the-floor) exit path markings apply to all new and remanufactured passenger and crew carrying cars. The purpose is to ensure that there is a lighted path to assist people exiting the car. All existing equipment must be compliant by January 1, 2006. The standard for egress and access signs apply to new and remanufactured cars.

In addition to photoluminescent signage, Brady Corporation markets more than 50,000 products, including high-performance labels, software, printing systems, label-application and data-collection systems, signs, precision die-cut materials and specialty tapes. Founded in 1914, Brady employs about 3,000 people and has operations in the United States, Europe, Asia/Pacific, Latin American and Canada. It had sales of $555 million in fiscal 2003.

More from Material Processing