Photoluminescent Material emits safe passage illumination.
Press Release Summary: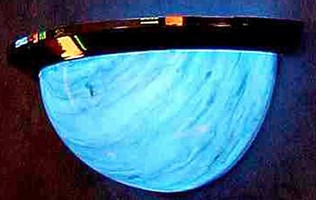 Suited for security lighting applications and use with CCD video surveillance cameras, Acriglo® glow-in-the-dark acrylic provides 1 ½-2 hr of illumination without back-up power source during loss of electricity. It charges completely by luminosity emitted during normal operation, and glow emitted from fixture provides lighting capacity equivalent to moonlight. Sheets are available in thicknesses from 1/8-3/8 in. and can be configured to meet specification requirements.
---
Original Press Release:

Acrilex Introduces Acriglo® Lighting for use with CCD Video Surveillance Cameras



Glow in the Dark Acrylic Combines Safety and Security with Attractive Design

Acrilex, Inc., a leading producer and distributor of high-end, custom-colored acrylics, offers its Acriglo® photoluminescent lighting for security lighting applications in a variety of industries such as banks, retail outlets and government buildings. Designed to provide an additional 1 ½ to 2 hours of illumination without a back-up power source during the loss of electricity, Acriglo is ideal for use with CCD video surveillance cameras.

Charged completely by the luminosity emitted during the normal operation of a light, the glow emitted from a fixture with Acriglo lasts for several hours, while providing a lighting capacity equivalent to that of moonlight. In addition, Acriglo can be charged and discharged indefinitely, without any degradation to the performance of the acrylic.

Offered in several colors and textures, Acriglo combines aesthetic appeal with a practical and low-maintenance safety device. Under normal conditions, Acriglo serves as a decorative light fixture, while during blackout conditions, it provides the illumination needed for safe passage. Safe passage is a primary concern during fires, and the product serves as a key safety function in this arena.

Acriglo sheets are available in a variety of sizes and in thicknesses ranging from 1/8" - 3/8." All sheets can be custom cut or configured to meet all specifications.

ABOUT ACRILEX
Acrilex is a leading producer and distributor of custom-colored acrylics, custom-configured acrylic fixtures and other products that make people say WOW! In business to provide solutions to clients, Acrilex can design it, create it and get it to you faster than anyone else in the industry. Headquartered in Jersey City, N.J., Acrilex offers a complete line of acrylic products and capabilities. To learn more about Acrilex, call Dan Rustin, a.k.a. Dr. Dan, at 1-800-222-4680, or via email at drustin@acrilex.com. Additional information can be found on the Acrilex company Website, www.acrilex.com

More from Construction Equipment and Supplies