Photolithography Stepper features high resolution lens.
Press Release Summary: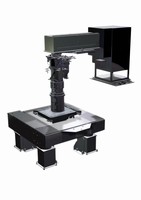 Based on step-and-repeat technology, Model 8700 PanelPrinter(TM) System features high performance lens that provides up to ±30 ppm real-time magnification adjustment via 6 degree of freedom reticle chuck, allowing every substrate to be compensated for, according to alignment results, ensuring precise alignment. Measuring 3.4 x 2.9 m, system can be configured with either 18709i or 18715i lens with resolution of 2.5 and 1.5 µm and depth of focus of 30 and 9 µm, respectively.
---
Original Press Release:
New Azores 8700 Photolithography Stepper Features Small Footprint and High Performance Optics
August 6, 2008 Wilmington, MA - Azores Corp, a leading manufacturer of advanced photolithography steppers, announces the new Model 8700 PanelPrinter(TM) System for flat panel display Gen 3.5 applications. The Model 8700 is based on proven Azores step-and-repeat technology in the company's Model 6700 and 9200 systems. It combines a high performance lens featuring a resolution of 1.5 µm, with a small system footprint of only 3.4 x 2.9 m. The Model 8700 is particularly well suited for customers who are upgrading their Gen 3.5 manufacturing line and need new systems to be seamlessly integrated with existing equipment, without significantly increasing the required manufacturing space. The integration of metrology with precision positioning subsystem technologies, combined with low distortion lens and optional software utilities, allows the manufacturer to insert the Model 8700 in a mix-and-match setup with other lithography systems. The system is ideal for manufacturing lines that need the 8700 to image critical layers on substrates, while ensuring grid registration and alignment with other stepper systems that are imaging resists for less critical layers in the same process line. The result for the customer is a significant savings in both capital and operating costs. The system can be configured with two different lens options: the 18709i lens with a resolution of 2.5 µm and a depth of focus of 30 µm; and the 18715i lens with a resolution of 1.5 µm and a depth of focus of 9 µm. Both feature an image field diameter of 187 mm and a magnification ratio of 1.25x. Real-time auto-focus measurement and compensation for focusing is utilized at each exposure site, ensuring CD control across the lens field. Instead of moving the platform, as is done in some competing technologies, the lens system in the Model 8700 is moved using fast, precise voice coil technology. Focus compensation is completed in < 0 .1 seconds, within the X, Y stage settle time for each step, so there is no adverse impact on throughput. The Model 8700 features real-time magnification adjustment via the patented six-degree of freedom reticle chuck, which enables the highest possible accuracy in layer-to-layer registration and image field stitching. The high performance lens provides up to ±30 ppm real-time magnification adjustment; therefore, every substrate is compensated for, according to the alignment results, ensuring precise alignment. The 8700 offers state-of-the-art integrated metrology to calibrate and optimize system performance. The metrology is based on a package of sensors which includes Transmission Alignment System (TAS) to detect positioning of the lens grid; Modulation Transfer Function (MTF) to detect lens focus; Illumination Intensity to detect illumination uniformity; and Reflective Alignment System (RAS) to detect the position of the alignment system relative to the center of the lens. The sensor package, combined with automated calibration routines, enable fast and accurate system tuning, maintaining optimal process conditions and eliminating the need to stop production and run exposure tests. The 8700 offers a robust software suite, including: o PanelCAD(TM) job planning and setup software features point-and-click commands, easy data entry to offset reticles with generation errors, and flexible alignment layout. o TouchPanel(TM) is a graphical operator interface that facilitates the running of a job. o Advanced eDiagnostics provide remote system access for both operation and diagnostics. o Error Browser(TM) diagnostic tools provide a graphical display of usage and error reports, helping the operator to identify and resolve process problems. All configurations of the 8700 are built on the same basic software, providing customers with a stable, easy to support system. Optional CIM software allows for easy integration, automatic cassette handling system, the built in 60-reticle storage library management, and overall factory integration. About Azores Azores Corp designs and manufactures precision photolithography equipment for flat panel display, high density interconnect, and semiconductor industries. Azores provides training, maintenance, and world-class service programs to its customers, as well as local sales support throughout Europe, Asia, and The Americas. Azores Corp was founded in 1999, and is headquartered at 16 Jonspin Road, Wilmington, MA 01887; tel: (978) 253-6200; fax: (978) 658-6349; e-mail: sales@azorescorp.com; web: www.azorescorp.com.