Gas and Chemical Sensors / Detectors
Photoionization Sensors detect many VOCs.
Press Release Summary: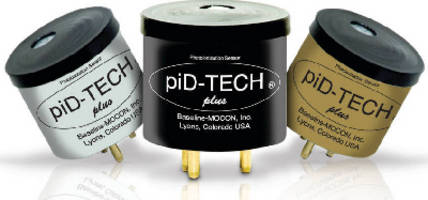 Intended for portable and stationary gas monitor OEMs, piD-TECH® plus sensor models use 10.6eV lamp and include Black Label with 0.05-2,000 ppm range, Bronze Label with 0.025-200 ppm range, and Silver Label with range of 0.005-20 ppm. Units are based on photoionization detectors and are suited for gas analyzers used in industrial hygiene and safety monitoring, soil contamination and remediation, HAZMAT sites and spills, and EPA Method 21 and emissions monitoring.
---
Original Press Release:

Baseline-MOCON Expands the PID Micro Sensor Product Line: A Version for Every User



Lyons, CO -Baseline-MOCON, Inc., a subsidiary of MOCON (NASDAQ: MOCO) continues to develop versions of their industry leading piD-TECH® plus photoionization sensor to satisfy every portable and stationary gas monitor OEM. Adding the Baseline PID to a gas monitor expands its versatility by detecting many volatile organic compounds (VOCs). VOC detection is necessary in a variety of military, industrial, commercial, and residential applications.

The piD-TECH® plus line sets a new standard by measuring concentrations lower than previously possible with other comparably-sized sensors. The available ranges for the sensors using a 10.6eV lamp are (ppm=parts per million):

o piD-TECH® plus Black Label 0.05 to 2,000 ppm

o piD-TECH® plus Bronze Label 0.025 to 200 ppm

o piD-TECH® plus Silver Label 0.005 to 20 ppm

If response time is an important factor in your analysis, Baseline-MOCON also offers versions in all ranges with a T90 response time of less than 3 seconds.
For more selective VOC analysis, useful for chemicals with a lower ionization potential such as benzene, a White Label piD-TECH® plus with a 9.6eV lamp is available in all three sensor ranges.

The piD-TECH plus continues to be the choice of gas monitor OEMs, because unlike the competition, the Baseline sensor does not suffer from problems like excessive humidity response, unwarranted drifting, or short lamp life.

The sensor is based on a photoionization detector (PID). The sample gas is exposed to an ultraviolet lamp. The energy emitted by the lamp ionizes and excites the targeted gases in the sample so they can be detected by the instrument and reported as a concentration. Ideal applications are gas analyzers which target industrial hygiene and safety monitoring, soil contamination and remediation, HAZMAT sites and spills, low-concentration leak detection, EPA Method 21 and emissions monitoring, and arson investigations.

Baseline-MOCON, Inc., first established in 1969 as Baseline Industries Incorporated, was acquired by MOCON in 2001. Baseline-MOCON is known as an industry leader in the development and manufacture of gas analyzers. The company's analyzers employ several principles of gas analysis and detection technology, including gas chromatography and continuous monitors based on flame ionization, thermal conductivity, and photoionization detectors. Baseline-MOCON is ISO 9001:2000 certified. For more information please visit: www.baseline-mocon.com


More from Services