Photointerrupter offers compact profile, ambient light immunity.
Press Release Summary: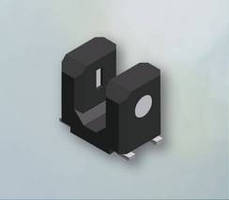 Intended for optical switches, digital cameras, and printers, ITR1205ST11A/TR slotted type opto interrupter detects object when it enters gap of slotted switch and blocks light path between emitter and detector. Pb-/Halogens-free solution can be designed to have respective gap and slit widths of 1.1 and 0.3 mm, promoting accuracy and detection sensitivity. Featuring 2.7 mm profile, product consists of IR emitting diode and NPN silicon phototransistor integrated by double molding process.
---
Original Press Release:

Everlight Unveils Ultra-small Outline ITR Photo Interrupter for Optical Switches, Digital Cameras and Printers



Shulin, New Taipei City - EVERLIGHT ELECTRONICS CO., LTD. [TSE:2393], a leading player in the global LED and optoelectronics industry with three decades of experience, has introduced the latest member of its ITR series of photo interrupters for use in optical switches, digital cameras and printers, the ultra small outline slotted type ITR1205ST11A/TR. A slotted type opto interrupter detects an object when it enters the gap of the slotted switch and blocks the light path between the emitter and detector.



Everlight's ITR Products consist of an infrared emitting diode and an NPN silicon phototransistor, integrated by a double molding process. This unique process reduces 74% volume in dimension as compared with conventional photo interrupter product in the market. The phototransistor detector receives light from the IR LED only, and avoids the noise from ambient light.



With a low profile of only 2.7mm, the new ITR1205ST11A/TR has an even more compact size than conventional parts. By using an advanced packaging technology, Everlight's ITR1205ST11A/TR can be designed to have a gap and slit width of 1.1mm and 0.3mm respectively, thus enabling it to have a higher degree of accuracy or detection sensitivity. This high degree of accuracy is especially needed for digital camera applications. Everlight's ITR photo interrupters are Pb/Halogens-free and RoHS compliant.



Sample Available: Yes. (Upon request)

Mass Production: Now



More information or data sheet for this product upon request: Please contact your local EVERLIGHT sales office. Local sales information: www.everlight.com.



EVERLIGHT is fostering close relationships between their R&D, Sales and Marketing teams to meet and exceed their customers' expectations in both product offering and technology. EVERLIGHT provides a great variety of customers with total solutions for their different optoelectronics and LED applications.



About EVERLIGHT Electronics Co. Ltd.

EVERLIGHT Electronics Co., Ltd. was founded in 1983 in Taipei, Taiwan.

Playing a critical role in the formation of the global LED industry, the company is rapidly ascending to become a leading supplier due to its dedication to certification, R&D, production, quality, marketing and global customer service. EVERLIGHT provides a diverse product portfolio consisting of high power LEDs, lamps, SMD LEDs, LED lighting modules, digital displays, optocouplers and infrared components for various applications. Today, EVERLIGHT is a global company with over 6,400 employees based in China, Hong Kong, Japan, Korea, Singapore, Malaysia, Germany, Sweden, U.S., and Canada.

Please visit us at www.everlight.com



Company PR contact: pr@everlight.com



Agency contact: Viviane Baltzer

Baltzer Communications

T: +49 (0)89 123.92.993

E-mail: viviane.baltzer@web.de

More from Computer Hardware & Peripherals