Photogrammetric Camera measures and inspects large objects.
Press Release Summary: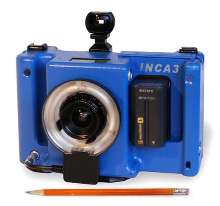 INCA3 Digital Photogrammetric Camera combines CCD sensor with PC-based computer to capture field measurements in harsh and unstable conditions. It includes integrated strobe, wireless operation and connectivity, and automatic exposure. Once INCA3 captures photos, V-STARS software automatically inspects collected digital images and extracts required 3D data. After processing, data can be aligned into object coordinate system, compared to previous measurements, or analyzed further.
---
Original Press Release:

Geodetic Systems, Inc. Ships State-of-the-Art INCA3 Camera for Industrial 3D Measurement Applications


INCA3 delivers major advances in accuracy, portability and WIFI connectivity

Melbourne, FL -- January 12, 2004 -- Geodetic Systems, Inc (GSI), a leading provider of portable 3D coordinate measurement systems, announced today it is now shipping INCA3, the company's third-generation metrology solution that implements the most advanced features ever found in a digital photogrammetric camera. The high-precision INCA3 combines a proven ultra-high-resolution CCD sensor with a powerful, compact industrial PC-based computer to accurately capture field measurements in harsh conditions and unstable environments. The camera's lightweight, rugged design is combined with unique features such as an integrated strobe, wireless (WIFI) operation and connectivity, and automatic exposure. INCA3 is particularly well-suited for in-place measurement and inspection of large objects, and is utilized in diverse industries such as aerospace, automotive, shipbuilding, nuclear, and more. GSI is renowned as the leading solution provider in the field of 3D digital imaging and industrial photogrammetry, and the only company offering this technology for industrial measurement based in the Americas.

Once INCA3 captures photos (either via hand-held operation or remote control), GSI's proprietary V-STARS software automatically inspects the collected digital images and extracts the required 3D data. After processing, the 3D data can be aligned into the object coordinate system, compared to previous measurements or analysed further. The robust V-STARS software has built-in analysis, visualization, and statistical tools and can exchange data with many 3rd party CAD and analysis software packages, if needed. The program can also work with CAD models for surface inspection operations. V-STARS graphical interface allows the viewer to examine points, camera stations, intersection angles, surfaces, and more. The user can also view text showing point XYZ coordinate information and analysis results.

"INCA3 delivers major advances in three key areas: accuracy, portability and WIFI connectivity," states John Brown, president of Geodetic Systems, Inc. "GSI's manufacturing and calibration techniques are the most advanced in the marketplace, thus making INCA3 the most precise photogrammetric camera ever made with accuracy of better than 0.001"@160". INCA3 is less than half the size and weight of our market-leading INCA2 camera, and yet it provides even more features, foremost of which is our new wireless interface. Wireless provides unfettered operation with immediate online connectivity."

INCA3 - Picture Perfect Measurements With Ease
INCA3 was designed to work in very demanding industrial environments, where conditions like vibration, movement and extreme temperatures are often found and pose problems for other types of metrology instruments. INCA3 provides laboratory quality and accuracy...without laboratory conditions. Users can unobtrusively shoot field measurements with minimal downtime to others working concurrently on an assembly such as a large aircraft.

INCA3's versatile interfaces let you choose the best one for the job. For offline operation, pictures can be saved to a Compact Flash (CF) memory card. For online operations, the camera can be connected wirelessly or via a thin, combined power/network cable. Multiple cameras can be operated (in either wireless or wired mode) simultaneously online for real-time measurement of dynamic or static objects.

No matter which interface is chosen, INCA3's embedded PC can process images immediately after each picture is taken, so problems can be detected instantly during the session. The embedded PC can rapidly compress images (typically > 10:1) for higher disk capacity and faster data transfer.

V-STARS - Turnkey Systems with Unmatched Capabilities
INCA3 extends and improves GSI's V-STARS line of turnkey measurement systems. V-STARS systems typically consist of one or more INCA3 cameras, a notebook computer with powerful, proprietary V-STARS software and various accessories. With INCA3, the most complete line of measurement systems around just got even better.

V-STARS v4.3 software now includes an innovative Automated Repeatability Measurement module ("ARM"). Ideal for automotive repeatability applications, the ARM system can also be used in a variety of industries and applications like deformation analysis and part loading studies.

What is Metrology? What is Photogrammetry?
The science of measurement is known as the field of metrology. Engineers, manufacturers, scientists, and quality control technicians utilize measurement technology in their own unique disciplines.

Photogrammetry is a three-dimensional coordinate measuring technique that uses photographs as the fundamental medium for metrology. GSI offers the most comprehensive product line based on industrial photogrammetry in the marketplace.

Product Availability
INCA3 is available from Geodetic Systems and Authorized Dealers. For USD pricing and more information on INCA3, V-STARS and other GSI products, call Gary Johanning at 321-724-6831 or email:gary@geodetic.com. Dealer inquires are welcome.

About Geodetic Systems, Inc.
Geodetic Systems, Inc. (GSI) is an international supplier of industrial photogrammetry solutions for the industrial measurement/metrology marketplace. GSI develops and markets the V-STARS family of 3D coordinate measurement systems for users involved in measurement and inspection applications in diverse industries such as aerospace, nuclear power, automotive and shipbuilding. INCA3, the company's flagship product, is a state-of-the-art digital photogrammetry camera with many progressive features. GSI distributes its products via a worldwide network of industry partners. Founded in 1977, the privately-held company is located in Melbourne, Florida. For more information, GSI can be reached at 321-724-6831 or visit their website at www.geodetic.com.

INCA3, V-STARS, Picture Perfect Measurements are trademarks or registered trademarks of Geodetic Systems, Inc. All other brand and product names are trademarks or registered trademarks of their respective owners.

CONTACTS:
Geodetic Systems Product Information Contact: Gary Johanning, 321-724-6831, gary@geodetic.com

More from Agricultural & Farming Products