Photodiode Energy Head measures energy down to picoJoules.
Press Release Summary: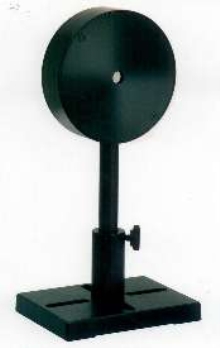 Model PD10-pJ offers energy scales from 100 nJ to 200 pJ, as well as pulse rates up to 4,000 Hz. It can make energy measurements as low as 10 pJ. Unit features spectral response of 0.19-1.1 µm, max pulse width of 50 µs, and max average power density of 5 Wcm², with damage threshold of 0.1 J/cm². It is compatible with Nova, Nova II Handheld, LaserStar, Dual Channel LaserStar, and Orion-PE Handheld smart displays.
---
Original Press Release:
Photodiode Energy Head Provides Accurate Energy Measurements Down to picoJoule Range

Wilmington, MA, November 2004...Ophir Optronics, Inc., leaders in advanced technology for the measurement of laser power, energy, beam profile and wavelength, introduces the new, PD10-pJ, Photodiode Energy Head. The new model PD10-pJ has energy scales ranging from 100nJ to 200pJ, as well as pulse rates up to 4,000 Hz. Ophir's PD10-pJ can make energy measurements as low as 10pJ.

Features include a spectral response of 0.19-1.1µm, a max pulse width of 50µs, and max average power density of 5Wcm², with a damage threshold of 0.1 J/cm². Calibration accuracy for the PD10-pJ is ± 5%.

The PD-10pJ is compatible with Ophir's Nova, Nova II Handheld, LaserStar, Dual Channel LaserStar, and the Orion-PE Handheld smart displays. Ophir's smart displays are true plug-and-play instruments that can be plugged into any of more than 70 Ophir smart Thermopile, Pyroelectric and Photodiode detector heads.

The Company

For more than 25 years, Ophir Optronics, Inc. has set the standard for the measurement of laser power and energy. Ophir, an ISO 9002 company, employs over 200 engineers, technicians and skilled workers. The company manufactures optical instrumentation, optical components and non-contact optical equipment for distance measurement and three-dimensional mapping of objects. The company's products are sold worldwide in over 25 countries. Ophir maintains marketing, sales and service centers in the USA, Japan, Israel and Germany.

For further information contact:

Laurie Beausoleil (Ophir Optronics, Inc.)

Tel: 800-383-0814

Fax: 978-657-6054

E-mail: sales@ophiropt.com

www.ophiropt.com
More from Electronic Components & Devices