Electromagnetic Field (EMF) Sensors / Detectors / Transducer
Photodetectors come in single- and 4-element configurations.
Press Release Summary: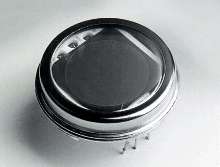 Series Nd:YAG can be used in photovoltaic or photoconductive mode. Sensing areas of Quad photodetectors are divided into 4 independent quadrants. Models SPOT-15-YAG and SPOT-9-YAG offer sensing areas of 15 and 9 mm, respectively. Single-element Models PIN-100-YAG and PIN-5-YAG have sensing areas of 100 mm² and 5 mm², respectively. N on P silicon units operate in fully depleted mode to satisfy high-speed requirements of military and commercial applications.
---
Original Press Release:
New Optimized YAG-Series Photodetectors

Hawthorne, CA - February 13, 2003 - UDT Sensors, Inc., a subsidiary of OSI SYSTEMS (Nasdaq: OSIS), announces a new series of YAG photodetectors, optimized for high-speed operation and high responsivity at 1064nm. The new Nd:YAG series offers two 4-element (Quad) detectors and two Single-element configurations. These N on P silicon devices operate in a fully depleted mode, to satisfy the high speed requirements of Military and Commercial applications. They can sense low-light intensities, such as the light reflected from objects illuminated by a YAG laser beam for ranging applications.

The Quad photodetectors' sensing areas are divided into 4 independent quadrants. The total sensing area diameters for the SPOT-15-YAG and the SPOT-9-YAG are 15mm and 9mm, respectively. Their applications include laser aiming and pointing, position measurement, surface profiling and guidance systems.

The Single-element PIN-100-YAG and PIN-5-YAG have sensing areas of 100mm² and 5mm², respectively. These detectors have large sensing areas and high breakdown voltages. For extremely low capacitance and rise time, the PIN-YAG series detectors may be biased at voltages up to 100V.

Both YAG series can be used in the photovoltaic mode, for low-speed applications requiring low noise, or in the photoconductive mode, with an applied reverse bias, for high-speed use. All Nd:YAG series products are available in rugged, metal packages.

ABOUT THE COMPANY:

Based in Hawthorne, California, UDT Sensors is a subsidiary of OSI Systems, Inc. As the oldest and largest manufacturer of standard and custom photodetectors in the United States, UDT Sensors leads the optoelectronic industry in design, engineering and production of detectors, high-performance components and sub-assemblies. For more information about UDT Sensors, please visit: www.udt.com

OSI Systems, Inc. is a diversified, global developer and distributor of optoelectronics for OEM manufacturing, the security, medical, and fiber optics markets. For additional information about OSI Systems, Inc. and subsidiaries, please visit: www.osi-systems.com
More from Software