Photodetector Services offer analysis, design, and assembly.
Press Release Summary: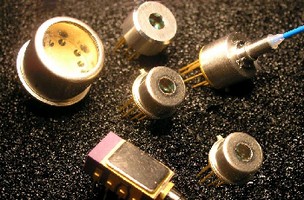 Custom Photodetector Services are suited for variety of applications, including fiber-coupled receivers, photometers, and photon-counting detectors for LIDAR. Engineering service includes comprehensive system-level analysis that identifies potential product issues such as optical and electrical isolation, low temperature operation, system noise, bandwidth, microphonics, and coupling efficiency. Technical expertise covers full spectrum of engineering disciplines.
---
Original Press Release:

Avo provides custom photodetector services



Custom photodetector solutions made specifically for telecommunications, medical sensing and industrial applications...

AVO PHOTONICS DELIVERS EXPERT PHOTODETECTOR ANALYSIS, DESIGN AND ASSEMBLY SERVICES

HORSHAM, Pa. (March 7, 2006) - Avo Photonics, Inc., specialists in optical and RF packaging solutions, now provides comprehensive services in the analysis, design and assembly of photodetectors for a variety of applications including high-speed, fiber-coupled integrated receivers, photometers, and low-noise, photon-counting detectors for LIDAR (Light Detection and Ranging) systems.

Avo Photonics offers its customers design-through-production services for custom photodetector devices meeting their unique requirements. Avo Photonics' engineering services can include a comprehensive system-level analysis to identify a wide range of potential product issues such as optical and electrical isolation, low temperature operation, system noise, bandwidth, microphonics, coupling efficiency and low-cost assembly.

"We utilize the analysis to deliver design and package assembly services of photodetector devices for customers in a variety of industries, including the telecommunications, military, medical and industrial markets," said David Winick, Vice-President of Engineering for Avo Photonics. "Our customers are building advanced systems serving a variety of applications. Our expertise in regard to photodetector packaging, in particular, enables our customers to enhance their overall system performance."

Often exceeding customer expectations, Avo's areas of technical expertise cover the full spectrum of engineering disciplines - including optical, thermal, mechanical, electrical/RF, materials, manufacturing and systems engineering - all with a dedicated focus on photonic packaging applications.

"Avo applies its multi-industry experience to create products for our customers," said Winick. "Utilizing Avo's depth of experience yields shortened design cycles. We put first-run prototypes into the hands of our customers quickly. Flexible ramp-up production volumes promptly follow."

About Avo Photonics
Avo Photonics specializes in photonic design and manufacturing solutions for the military/aerospace, medical, communications, and industrial markets. Avo Photonics' mission is to provide support services from design through production. As a specialty service firm that does not manufacture its own products, Avo Photonics assures that its customers' intellectual property is never compromised. For a complete overview of Avo Photonics' service offerings, visit www.avophotonics.com or call 215-441-0107.

More from Software