Photocells suit variety of light sensing applications.
Press Release Summary: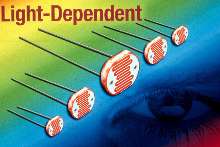 Series CdS single and dual Cadmium Sulfide, Light-Dependent Resistors sense light in spectral range from 515-730 nm and have peak wavelength of 515 nm. Spectral response is similar to human eye making them suitable for sensor applications that require human eye light perception. Resistivity values range from 3 Kohms to 240 ohms max at 10 Lux, 2856 K. Measuring 0.165 x 0.138 in., photoconductive photocells include glass window and plastic coating.
---
Original Press Release:

Selco Introduces CdS Photoconductive Photocell Series for Wide Variety of Light Sensing Applications


ANAHEIM, Calif. - June 9, 2003 - Selco Products Company has expanded its product range of thermal and electronic control products with the introduction of the new CdS Photocell Series. These single and dual Cadmium Sulfide (CdS) Light-Dependent Resistors offer high sensitivity and high stability. Featuring a spectral response similar to the human eye, the new devices are ideally suited for sensor applications that require human eye light perception.

The CdS Photocells are designed to sense light in the spectral range from 515 to 730 nm and have a peak wavelength of 515 nm. Performance characteristics include a wide range of resistivity values ranging from 3K-ohms to 240-ohms max@10Lux, 2856K and an operating temperature range of -30 - + 75° C. Other features include glass window and plastic coating construction, and a manufacturing process that incorporates a sintered film fabrication process to provides high sensitivity areas. Soldering is at 260° C for 5 sec. (max) at least 5mm from the cell package.

Though small in size - just 0.165" x 0.138" (Model 9P Series) - the output current per photoconductive surface area is large enough to drive relays directly. For this reason, the CdS Photocell Series can be used in a wide variety of applications including photometry, light control, detection, and audio applications for sensing the presence or absence of light or measuring the intensity of light. Typical examples include light camera exposure, brightness controls, shutter controls, night lights, street light controls, low-light level detection, light dimmers, auto headlights, sun sensors for air conditioners, security systems, office machines, audio equipment non-contact volume control, and other visible light sensor applications.

The CdS Photocell Series can provide a more cost-effective solution in many light switching applications. For example, an automatic lighting system for a parking lot usually requires a timer built into the circuitry. By using a photoconductive photocell sensor that can be mounted right into the light
circuitry, the need for an expensive timer and electric wiring to the light is eliminated.

"Our new Photocell Series represents a significant new growth avenue for Selco," said James Reed, Director of Operations for Selco. "It not only provides greater product diversity for our customers, it also opens up a wider range of market opportunities."

The new 9P, 8P, 7P, and 5P Series of CdS Photocells are available for immediate delivery and are competitively priced from $0.10 - 0.33 in production quantities. Custom CdS photocells are also available.

For further information on the entire line of Selco thermostats, thermistors, electronic controls, knobs, and digital panel meters, contact Selco Products Company, 605 South East Street, Anaheim, Calif., 92805-4842; Toll-Free: (800) 229-2332; E-mail: sales@selcoproducts.com; Web site: www.selcoproducts.com.

More from Agricultural & Farming Products