Photo Sensors address complex optoelectronic applications.
Press Release Summary: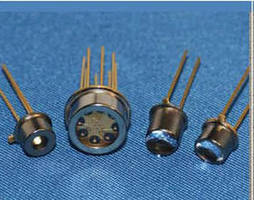 Available with water clear glass or plastic lens and range of power output options, LED Photo Sensors are offered in various standard configurations as well as custom designs. Other options include 3 and 5 mm metal can and ceramic packages as well as red (660 nm), amber (590 nm), green (520 nm), blue (465 nm), and white (x=0.31, y=0.32) visible emitters.
---
Original Press Release:

Marktech Photo Sensors & Custom Assemblies Address Complex Optoelectronic Applications



Latham, New York: Marktech Optoelectronics, a leader in the design, development and sales of optoelectronic components, has added a complete line of high quality Photo Sensor devices to their Optoelectronic component line-up. Specializing in metal can and precision epoxy packages, Marktech has added unique package styles, materials and custom capabilities to their LED line. Marktech also offers many standard configurations and lens options as well as custom designs and assemblies not available from competitors. With over 25 years of experience in the optoelectronics industry, Marktech's engineering group can provide concrete solutions for some of the most difficult sensor applications. Photo Sensors have become an ever growing part of electronic designs, from infrared remote controls and wireless communications to position sensing and machine vision. High quality emitter and detector products have become a necessity in the telecommunications, automotive, industrial and medical industries.

Photo Sensor Features


3mm, 5mm, Metal Can and Ceramic Packages

Wide range of power output

Visible Emitters available in Red(660nm), Amber (590nm), Green (520nm), Blue (465nm) and White (x=0.31, y=0.32)

Water Clear Glass & Plastic Lens

High Efficiency & Reliability

Precise Optical & Mechanical Accuracy

Exceptional Cost vs. Performance Ratio

Custom Assembly Options

Marktech has the capability to produce custom sensor devices in a wide variety of package styles and wavelengths to create the ideal sensor module for your specific application. From single chip to nine chip components, Marktech can build custom parts to meet the specific needs of almost any sensor application. Marktech's applications and technical engineering staff can assist you in choosing the best combination of die and package type to build devices that are matched to your application specifications. From prototyping and design to custom assemblies and testing, we have the experience necessary to bring a concept through to production

For a copy of our latest Photo Sensor product guide or to find out more about our custom assembly options contact Marktech Optoelectronics at 800.984.5337 or info@marktechopto.com, or visit our website at www.marktechopto.com for specs and additional information.

Marktech Optoelectronics: Marktech Optoelectronics is an engineering and design group with over 25 years of opto experience. We continue to focus on the latest state-of-the-art technologies incorporating III-V materials, components and assemblies in order to provide innovative solutions that are designed to meet the needs of our customers.

Related