Vision and Imaging Sensors / Detectors
Photo Sensor emulates human eye in detecting ambient light.
Press Release Summary: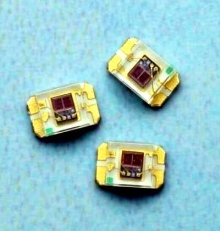 Analog-output Model APDS-9002 is supplied in miniature ChipLED lead-free surface-mount package measuring 2.00 x 1.25 x 0.80 mm. Sensor detects ambient light level and provides linear proportional output that adjusts backlighting of display screen or keypad. Unit operates over 2.4-5.5 V supply voltage range and -40 to +85°C temperature range. In addition to mobile phones and portable electronics, sensor is suited for turning on/off lighting, electronic signs, and signals.
---
Original Press Release:

Agilent Technologies Introduces Low-Cost Ambient Light Photo Sensor in Miniature ChipLED Surface-Mount Package


Device Controls Mobile Phone and Portable Product LCD Display Backlighting, On/Off Control for Lighting Applications

PALO ALTO, Calif., May 16, 2005 -- Agilent Technologies Inc. (NYSE: A) today announced a new version of its analog-output ambient light photo sensor for mobile, consumer, commercial and industrial products. The Agilent APDS-9002 sensor is supplied in the miniature ChipLED lead-free surface-mount package, which features one of the smallest dimensions in the industry at 2.00 mm x 1.25 mm x 0.80 mm. Its compact package reduces board space, making it possible to design even slimmer, feature-rich products.

Agilent's ambient light photo sensors are an ideal power-savings solution for PDAs, notebook PCs, portable DVD players, MP3 players, camcorders and digital cameras, as well as mobile phones. They may also be used for turning on/off indoor and outdoor lighting, street lighting and electronic signs and signals.

"Our new ChipLED photo sensor addresses a range of applications, including price- and size-sensitive mobile phones," said Chee-Kien Lim, worldwide marketing manager for the Infrared Products Division in Agilent's Semiconductor Products Group. "The ultra-small sensor offers improved performance and significant power savings, which is an increasingly important issue with today's battery-powered products."

Compared with Agilent's previously introduced HSDL-9001 light sensor, the APDS-9002 offers improved performance, including guaranteed operation over the extended 2.4 V to 5.5 V supply voltage range, and the wider -40 C to +85 C temperature range. Agilent's innovative ambient light photo sensors emulate the human eye in detecting the amount of ambient light, then signaling the mobile phone to turn on its display's backlight and keypad light if necessary.

The new sensor detects the ambient light level and provides a highly linear proportional output that is used to adjust the backlighting of a display screen or keypad. If there is sufficient ambient light, designer-provided logic can turn off the backlighting to reduce battery recharges or replacements.

Agilent's ambient light sensors outperform silicon photodiode light-detection solutions because their spectral response peaks at the same wavelength as the human eye. The sensors perform equally well with light sources ranging from natural sunlight to fluorescent, conventional incandescent, and halogen lamps. They also offer significantly faster response to changes in illumination than phototransistors. The ChipLED package, developed for surface-mount LEDs, combines low cost, proven reliability and optimization for automated manufacturing processes with an extremely small, industry-standard footprint.

U.S. Pricing and Availability
The APDS-9002 is available now through Agilent's direct sales channel and worldwide distribution partners. It is priced at less than $0.50 each in moderate volumes. More information is available at www.agilent.com/view/ir.

Agilent's Mobile Appliance Solutions
Agilent is a leading supplier of semiconductor solutions for today's highly integrated, feature-rich mobile handsets. In addition to ambient light photo sensors that save battery life by controlling backlighting, Agilent provides RF components that help shrink handset size and save battery life, CMOS imaging solutions that enable camera phones, infrared transceivers for transmitting data, surface-mount LEDs that provide backlighting styling options, and proximity sensors that automate the speakerphone. No other component vendor offers all of these solutions for mobile appliances. More information about Agilent's family of mobile appliance semiconductor solutions is available at www.agilent.com/view/mobile.

About Agilent Technologies
Agilent Technologies Inc. (NYSE: A) is a global technology leader in communications, electronics, life sciences and chemical analysis. The company's 28,000 employees serve customers in more than 110 countries. Agilent had net revenue of $7.2 billion in fiscal year 2004. Information about Agilent is available on the Web at www.agilent.com.

More from Electronic Components & Devices