Photo-polymer Modeling Material has rubber-like properties.
Press Release Summary: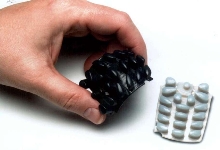 Designed for Eden333 PolyJet(TM) rapid prototyping systems, FullCure(TM) Tango line provides flexible rubber-like 3D models early in design stage. Line includes TangoBlack(TM), with 61 Shore A hardness, and TangoGray(TM), with 75 Shore A hardness. Both products provide high elongation at break and can stretch to mate with other components. Tango products are suited for prototyping of products with pliable features such as tires, gaskets, key pads, and automobile trim components.
---
Original Press Release:

Rapid Prototyping Material Offers Rubber-like Properties


Stratasys Will Sell "Tango" Material For Poly Jet Process in North America

Minneapolis, Aug 2 - (Nasdaq: SSYS) Stratasys today introduced a line of photo-polymer modeling materials with rubber-like properties for the Eden333 PolyJet(TM) rapid prototyping systems. The material will allow users to create prototypes of flexible end-products.

The material line, called FullCure(TM) Tango, was developed by Objet Geometries. Stratasys is the exclusive North American distributor for PolyJet systems and materials. The new material line broadens the spectrum of mechanical properties PolyJet users can reproduce.

Tango is expected to be of interest to manufacturers of products with pliable features, such as tires, toys, shoes, gaskets, key pads, over-molding, and automobile trim components.

"For our application, the Tango material presented unique opportunities to shorten the product design life cycle," says Hasbro rapid prototyping manager John Mullen. "Never before could we provide flexible rubber-like 3D models in the early stages of product design, right from an RP machine. Having one technology that allows us to offer different materials is a major time and cost savings. Switching between Vero and Tango materials was easy and straightforward; no mess and quick. We routinely switch between different materials during the same day."

The FullCure Tango line includes TangoBlack(TM) and TangoGray,(TM) both which offer high elongation at break. Because the materials have a feel similar to rubber or silicone, they can easily stretch to mate with other components. TangoBlack provides maximum elasticity with a hardness of 61 Shore A. TangoGray is a slightly harder but still flexible material with a hardness of 75 Shore A, providing more controlled flexibility and elasticity.

The Tango line uses the same support material as other FullCure materials, enabling the same easy removal process. Newly released software enables easy switching between material types. TangoGray and TangoBlack deliver the same high level of fine detail and smooth surface finish that PolyJet users have grown accustomed to with FullCure transparent and VeroBlue materials. Tango materials are for use with Eden333 systems.

Stratasys Inc, Minneapolis, installed 36 percent of all rapid prototyping systems sold worldwide in 2004, the highest percentage of any manufacturer, according to Wohlers Report 2005. The company patented the rapid prototyping process known as fused deposition modeling (FDM®). The process creates solid models directly from a 3D CAD program using ABS plastic, polycarbonate, PPSF or other materials. Stratasys manufactures rapid prototyping systems for use by OEMs such as aerospace, automotive, defense, medical, and consumer product makers. These rapid prototyping systems are also used for rapid production and rapid tooling applications.

Objet Geometries, FullCure, Eden, TangoBlack, TangoGray and PolyJet are trademarks of Objet Geometries Ltd. and may be registered in certain jurisdictions.


More from Machinery & Machining Tools