PHOENIX 4 Helium Leak Detector features color touch display.
Press Release Summary: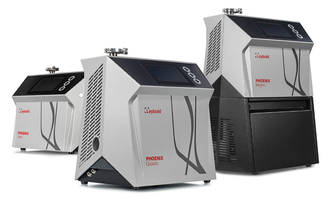 Helium Leak Detector is available in PHOENIX Vario, PHOENIX Quadro and PHOENIX Magno variants. Unit enables user to operate wirelessly with an internet-capable mobile device using integrated web server. Product offers communication and bus interfaces which allow exporting data and creating test reports. Vario model is suitable for research applications where as Quadro features an oil-sealed TRIVAC rotary vane vacuum pump. Magno can be installed with oil-free scroll vacuum pump for dry version.
---
Original Press Release:
The Next Generation: New helium leak detector PHOENIX 4 from Leybold
After 15 years, Leybold is launching the PHOENIX 4, a new family of helium leak detectors to meet the increasing quality requirements. This innovative product is equally suited to the demands of research and development as for those of industrial applications - from securing the ultra-high vacuum demands in CERN's particle accelerator, to industrial applications such as leak detection in the Hyperloop vacuum transport system or for semiconductor production.
Functional design concept
With its ergonomic design and improved measuring characteristics, the fourth generation PHOENIX sets new standards - especially in terms of operating comfort, response times, helium sensitivity and reliability. Moreover, the stationary and mobile models are easier to handle and maintain than their predecessors. For example, it is now possible to change the filter without removing the housing. This compact, versatile helium leak detector is available in three classes, the PHOENIX Vario, PHOENIX Quadro, and PHOENIX Magno, which are designed for various customer applications with their different pumping speed configurations.
Optimized human-machine interfaces
The thorough facelift focused on improving the monitoring and control functionality, as well as the need to meet the increased demands on leak detection performance. Accordingly, the PHOENIX 4 can be operated comfortably via a color touch display or wirelessly with any Internet-capable mobile device, due to the integrated web server. The optimized design of the display allows users to intuitively navigate through the menu and the sensitive touch displays and push-buttons can be easily activated.
Extended by useful features
"In the PHOENIX 4, we have added useful features to the proven equipment features of the predecessor L300i," explains Dr. Sina Forster, the responsible Leybold product manager. For example, the number of interfaces for data acquisition, communication and system integration has been increased. Additional communication and bus interfaces are now integrated directly at the leak detector alongside with new, optional interface modules. These enhanced communication interfaces facilitate easy data export and the creation of test reports.
Uniform technology platform
In addition to the new design and the intelligent connections, the PHOENIX is also defined by its "inner values". The entire PHOENIX-4 series is based on a uniform technology platform and contains the identical measuring system, not least for economic reasons. The models and versions are differentiated by the backing pumps and pumping speed configurations.
Models for all cases
As the smallest in its class, the PHOENIX 4 Vario is a suitable space-saving system in special research applications. The designers went without an integrated backing pump leaving more flexibility, not least due to its low weight of 30 kilograms. The next variant in line, the PHOENIX 4 Quadro, has an oil-sealed TRIVAC rotary vane vacuum pump as backing pump. In the dry version of the Quadro, a diaphragm pump is used. This variant is perfect for use in analytical technology, the food and packaging industry as well as in automotive production. The model range is rounded off with the most powerful leak detector, the PHOENIX 4 Magno for large test volumes. In the oilsealed version, the SOGEVAC rotary vane vacuum pump is installed, whereas in the dry version, the oil-free scroll vacuum pump SCROLLVAC is utilized.
Accuracy, reproducibility, speed
In addition to the sensitivity and reproducibility of reliable leak rate measurements, users of the PHOENIX-4 family benefit from the fast operational readiness and adaptability of the helium leak detector models throughout the range. "These performance characteristics are just as important in high-energy physics, e.g. at the Centre for German Electron Synchrotron DESY for basic scientific research in Hamburg, as they are in semiconductor production," says Product Manager Dr. Sina Forster. Forster concludes, "The two of the most important features of a helium leak detector in all modern applications are its accuracy over a wide measuring range and its time of response."
The fourth generation of the PHOENIX, one of the fastest and most reliable leak detectors on the market, is now available to enhance user experience worldwide.
About Leybold
Leybold is a part of the Atlas Copco's Compressor Technique business area and offers a broad range of advanced vacuum solutions for use in manufacturing and analytical processes, as well as for research purposes. The core capabilities center on the development of application- and customer-specific systems for the creation of vacuums and extraction of processing gases. Fields of application are secondary metallurgy, heat treatment, automotive industry, coating technologies, solar and thin films such as displays, research & development, analytical instruments, as well as classic industrial processes.
About Atlas Copco
Atlas Copco is a world-leading provider of sustainable productivity solutions. The Group serves customers with innovative compressors, vacuum technique and air treatment systems, construction and mining equipment, power tools and assembly systems. Atlas Copco develops products and services focused on productivity, energy efficiency, safety and ergonomics. The company was founded in 1873, is based in Stockholm, Sweden, and has a global reach spanning more than 180 countries. In 2016, Atlas Copco had revenues of 11 Bilion Euros and more than 45 000 employees.
Since 1952, Atlas Copco is present in Germany. Under the roof of two holdings located in Essen, more than 20 production and sales companies are gathered (February 2017). By end of 2016, the group employed about 3800 people, including about 100 trainees. www.atlascopco.de
Related