Philatron Releases EVE Cables that Deliver Heavy Duty Performance
Press Release Summary: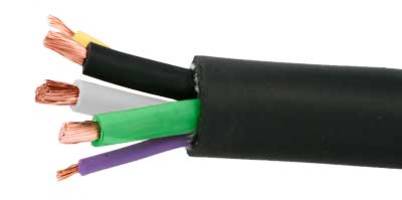 Rated for +105°C to -50°C temperature range
Resistant to chemicals, flame, ozone, water and ozone
Meets Underwriters Laboratories: UL-62, and National Electric Code: Articles 400 & 625 standards
---
Original Press Release:
Introducing the New Most Efficient 1000 Volt Rated EVE Cable that Reduces Overheating
Philatron is introducing the new most efficient 1000 Volt rated EVE cable that reduces overheating
SANTA FE SPRINGS, CALIF. (PRWEB) MARCH 26, 2019- Philatron Wire and Cable proudly introduces its' new UL listed 1000 volt rated electrical vehicle cables – UL type EVE – 1000 Volts. These EVE cables are the most efficient EVE cables manufactured.
"Electrical systems are most efficient when a higher voltage is used to reduce current," said Phil Ramos Jr., CEO and Founder of Philatron Wire and Cable. Phil Jr. explains here how higher voltage works:
As electrical current is increased, copper wire conductors heats up. Higher currents cause over heating if the conductors are undersized for the application. As the heat increases, the resistance (less capacity to conduct electricity) of the wire conductors also increases. Overheating of conductors can be reduced by applying higher voltage, because higher voltage reduces current or allows higher current through the same size conductors previously powered by smaller voltage. The improved efficiency of electric current by using higher voltages allows for electrical vehicle cables to be designed with smaller sized, lighter weight cables for supercharging stations without overheating.
Philatron has a track record of continuing to improve efficiency in the automotive industry. With 45 years of innovation in electrical wire and cable products, Philatron is a full-service USA cable manufacturer - offering bulk cables from 12 volts to 35,000 volts and EV Cable Assemblies with option of straight cable or new large loop coiled cable for improved safety and cable management. Philatron EV cables are rated +105°C to -50°C, with Underwriters Laboratories: UL-62, and National Electric Code: Articles 400 & 625 Standard. The application of the EVE power cable is extra heavy duty, with greater mechanical strength, lower weight, temperature, and abrasion. It is also chemical, flame, water, and ozone resistant. Philatron manufactures USA quality cables that you can trust.
About Philatron Wire and Cable 
A leader in technology, creativity and innovation, Philatron Wire and Cable is a major wire and cable provider in the USA, manufacturing a full range of wire and cable products. As an industry leader in manufacturing, design, development, technology, and marketing, with over 40 years of service Philatron values core competencies offering copper drawing, roping, cabling, extrusion, injection molding, coiling and assembly. Markets served: Aerospace, Auto/Heavy Duty Trucking, Electrical, Entertainment, Medical, Military, Mining, OEM, Oil & Gas, Transportation, and Utility/Power. Certified ISO 9000 IATF 16949 (Quality Program) & SDVOSB (Veteran Owned Business).
Made in America.
Visit us at: Philatron.com
For additional information contact:
Tammy Ashton
Vice President of Sales
tashton@philatron.com
562.802.2570
800.967.9147
More from Computer Hardware & Peripherals