Phifer Manufactures Pride, Wire Products in the USA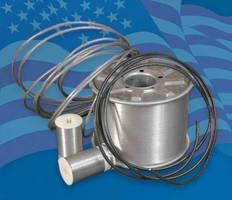 TUSCALOOSA, Ala. - Phifer Incorporated is proud to offer a vast range of drawn wire products, all made in the USA in state-of-the-art manufacturing facilities located in Tuscaloosa, Ala.

A family-owned and-operated company, Phifer has 60 years of wire drawing experience and is an international leader in the manufacture of aluminum round wire for a wide variety of applications. Phifer has some of the most diverse capabilities in the industry, producing custom aluminum round wire from numerous alloys in diameters .11mm-11.1mm. Applications include but are not limited to, coaxial cable braid shielding, shipboard cable armoring, hose braiding, rivets, weaving wire, industrial knitting, wire forms, tea bag staples, semiconductor bonding, medical devices, stranded power cables, fencing, hinge pins and food packaging clips.

Newer products include copper clad aluminum, low carbon steel and bronze wire .127mm-.50mm (.005"-.020"). Available packages for fine diameter wires include numerous returnable and disposable spools .34kgs-14kgs (.75lbs-30lbs). Phifer also offers new precision-winding capabilities for aluminum thermal spray and metallizing applications. Packages include coils and stem carriers from 14kgs-680kgs (.032" to .4375"), fiberboard drums, and over 40 spools and reels.

Innovative machinery has expanded and improved Phifer's selection, especially for manufacturers of rivets, staples and other fasteners. Phifer also offers chemical processing and cleaning for improved appearance and enhanced performance.

Phifer is ISO registered and employs a large international sales staff fluent in many languages. Phifer exports to over 100 foreign countries and holds the Presidential "E" and "E-Star" awards for export excellence.

For more information about Phifer's American-made drawn wire products, visit phifer.com/DrawnWire.aspx, e-mail inquiries through www.phifer.com or www.phiferengineered-wireproducts.com, or call 1-800-854-9473.


More from Packaging Products & Equipment