Phifer Exterior Sun Control Fabrics Receive GREENGUARD Select Certification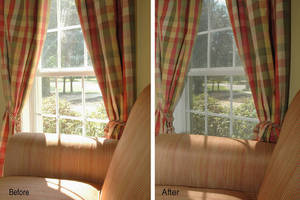 TUSCALOOSA, Ala. - Phifer Incorporated has attained the elite GREENGUARD Select certification for its Exterior Sun Control Fabrics. Phifer is the first and only window coverings manufacturer to receive the Select certification by the GREENGUARD Environmental Institute (GEI) for superior indoor air quality performance. Phifer's fabrics are also certified as meeting the stringent GREENGUARD Children and Schools standards for commercial use.

The new GREENGUARD Select program is designed to meet the latest in scientific and market requirements for VOC and formaldehyde emissions, including showing compliance with the 2012 updates to the California section CA 01350 emissions standard. The Select certification designates emissions performance based on modeling to specific indoor environments where the product will be used, such as commercial, healthcare, educational and homes. In addition to stringent VOC and formaldehyde level limits, GREENGUARD Select Certified products must meet lead and phthalate content requirements as defined by the U.S. Consumer Product Safety Information Act.

Using the same installation method as standard insect screening, Phifer's Exterior Sun Control Products can be installed as a screen on the outside of the window or in a porch application. These products can block from 65 to 90 percent of solar heat and glare before it enters the glass, resulting in a more comfortable indoor temperature, more efficient air conditioning and ultimately energy conservation. Sun control screens work with the window open or closed, offering daytime privacy while reducing the fading of drapes and furniture. In addition to these benefits, the screens allow outward visibility as well as insect protection.

All products certified by GEI must pass a series of rigorous emissions tests and undergo quarterly tests, as well as annual re-certification, to ensure their low emission status is maintained. GEI is an independent, third party, unbiased non-profit organization founded to create healthier indoor environments, improving public health and quality of life by testing and certifying low chemical-emitting products and materials and helping manufacturers build better and safer products.

For more information about Phifer's GREENGUARD Select certified exterior sun control product line, contact Phifer at 205-345-2120, visit phifer.com/ExtSunControl.aspx or e-mail inquiries through the Web site at www.phifer.com.

A master weaver with 60 years of experience and a forward-thinking mentality, Phifer is the world leader in the production of interior and exterior sun control fabrics, cutting-edge, specialty screen products for windows and doors, stock/custom engineered mesh and textile products and high performance outdoor designer fabrics.


More from Machinery & Machining Tools