Phenolic Core Laminated Panels withstand scratching, chemicals.
Press Release Summary: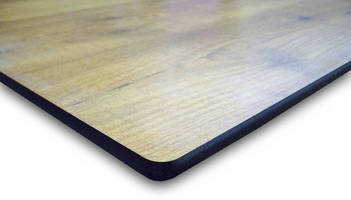 Intended for use in table top, interior wall panel, toilet partition, counter top, and furniture part markets, phenolic core laminated panels utilize Werzalit® surface technologies so that surface holds up to scratching, burning, and chemicals. Finishing or value add services are available, and finished product may contain pre-drilled holes, notches, or finished edges. Custom decorative surface design work is also available, and panels can be supplied in any size, shape, and surface design.
---
Original Press Release:

Werzalit of America, Inc. Introduces Phenolic Core Laminated Products



Werzalit® Werzalit of America, Inc. introduces its new process of phenolic core laminated panels for use in the table top, interior wall panel, toilet partition, counter top and furniture part markets. Werzalit of America, Inc. have combined their 35 year of experience, world renowned Werzalit® surface technologies with a newer spin on phenolic core laminate products.



President of Werzalit of America, Inc. Anthony Manning has stated that "The decision to enter into phenolic core laminate products was due to a variety of key items. The nature of the process lined up well with our core competencies in reference to pressing and quality decorative surfaces. After much research we found that there seemed to be some common problems when talking with current customers who were purchasing phenolic core laminate products. Current customers complained that they really liked the phenolic products but that they were too expensive and that they experience surface issues when it came to overall aesthetics and scratching. So we developed a process and product that would allow us to be much more price appealing. We are using our Werzalit® surface technologies to give customers a great looking surface that holds up to scratching, burning and chemicals. Along with this product we are also offering finishing or value add services so that customers can have the option of receiving not only a panel, but a finished product that may contain pre-drilled holes, notches or finished edges. In addition to all of this we are also able to offer customers custom, decorative surface design work as well. There is really nothing we can't do with this product as the phenolic core panels can be done at any size, shape and surface design. At the end of the day we are producing an aesthetically pleasing, high performance panel that can be finished to any shape and décor option for a much lower price."



Werzalit of America Inc. is located in Bradford Pennsylvania, where it has manufactured resin-bonded products since 1978.

Werzalit® technology was developed by Werzalit KG of Oberstenfeld Germany, and is the product of over 60 years of engineering and practical experience. Werzalit® offers unique product lines that combine prime quality materials with careful design and engineering.



Werzalit of America, Inc.

Phone: 800-999-3730

Fax: (814) 362-4237

Email:

[email protected]



Web: www.werzalitusa.com