Phase Meter facilitates rotating-machinery installations.
Press Release Summary: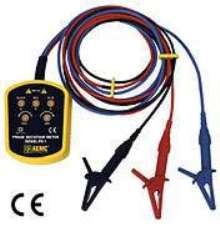 Phase Rotation Meter Model PR-1 identifies open/de-energized systems as well as phase sequence on 3-phase systems. Compact meter includes permanently attached, loss-proof test leads with tangle-proof separators. It is EN 61010, 600V Cat. III rated and fuse protected. Product is suited for installing rotating machinery and motors and for checking generator output.
---
Original Press Release:
AEMC® Introduces Phase Rotation Meter

The Phase Rotation Meter Model PR-1 is a compact rugged meter designed to identify phase sequence on three-phase systems and identify open/de-energized systems.

The Model PR-1 is ideal for installing rotating machinery, motors and for checking generator output. The Model PR-1 includes permanently attached loss-proof test leads with tangle proof separators. It is EN 61010, 600V Cat. III rated and fuse protected.

Price: $69.00.

Submitted by:

Laura A. Mahoney, Marketing Communications Manager

AEMCO® Instruments

200 Foxborough Blvd.

Foxborough, MA 02035-2872

(508) 698-2115

(508) 698-2118 (fax)

Imahoney@aemc.com

Technical Contact:

Howard Myers, Application Engineer

techsupport@aemc.com