Pharmacy Pump does not require calibration or adjustment.
Press Release Summary: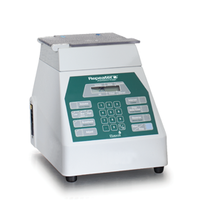 Offering consistent liquid delivery regardless of source container, final container, tubing diameter, or fluid viscosity, Repeater(TM) Pump II accurately delivers pharmacy solutions into various containers using fixed-volume (positive displacement) pumping. Other features include snap-and-go tubeset installation, touchscreen UI with icons and colored graphics, as well as memory field recall capability that aids in start and repeat of common applications.
---
Original Press Release:
Baxa Corporation Launches Repeater(TM) Pump II with P2(TM) Technology
LAS VEGAS, Dec. 3 -- Baxa Corporation announces its launch of the Repeater Pump II, designed to provide accurate delivery of pharmacy solutions into a variety of containers, without the need for calibration. The Repeater Pump II is the first no-calibration pharmacy pump, and uses a fixed-volume pumping design commonly referred to as 'positive displacement.' The positive displacement nature of the Repeater Pump II eliminates the need for calibration or adjustment, providing accurate liquid delivery regardless of source container, final container, tubing diameter and fluid viscosity. "This next-generation pump builds on our experience with the market-leading Repeater Pump," notes Product Manager Laura Zoerner. "Its vibrant touch screen makes it easy to use by eliminating buttons and knobs that can be hard to press. The product's icons and colored graphics make controls easy-to-find and easy-to-use." The Repeater Pump II incorporates a number of features that have been designed through user feedback and customer preference trials. These include snap-and-go tubeset installation and memory field recalls at the touch of a button, which makes it easy to get started and repeat common applications. Baxa is demonstrating the capabilities of the new pump during the American Society of Health-System Pharmacists Midyear Clinical Meeting, the largest annual gathering of industry professionals, in Las Vegas, NV from December 3rd through December 5th, 2007. At the Baxa exhibit, booth number 2106, pharmacists can see first-hand how the pump automatically adjusts to the viscosity of the fluid being pumped. Baxa representatives show the pump's flexibility in handling IV or oral medications to and from bags, bottles, vials and syringes with efficiency and accuracy. The Repeater Pump II is anticipated for full commercialization in spring 2008. About Baxa Corporation Baxa, a customer-focused medical device company, provides innovative, solution-based technologies for fluid handling and delivery. Its systems and devices promote the safe and efficient preparation, handling, packaging, and administration of fluid medications. Key products include the PadLock(TM) Set Saver, Rapid-Fill(TM) Automated Syringe Fillers, Exacta-Med(R) Oral Dispensers, MicroFuse(R) Syringe Infusers, Repeater(TM) Pharmacy Pumps, and Exacta-Mix(TM) and MicroMacro(TM) Multi-Source Automated Compounders; used worldwide in hospitals and healthcare facilities. Privately held, Baxa Corporation has subsidiaries and sales offices in Canada and the United Kingdom; direct representation in Austria, Belgium, Finland, France, Germany, Luxembourg, The Netherlands and Switzerland; and distribution partners worldwide. Further information is available at baxa.com/. Contact: Marian Robinson, Vice President, Marketing Baxa Corporation: 800.567.2292 ext. 2157 or 303.617.2157 Email: marian.robinson@baxa.com Maggie Chamberlin Holben, APR Absolutely Public Relations: 303.984.9801 or 303.669.3558 Email: maggie@absolutelypr.com
More from Materials