Pharmaceutical Tracking System prevents counterfeit products.
Press Release Summary: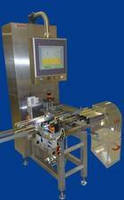 Track and Trace system features Carton Printing System module with printer that produces data such as serial number, expiration date, batch number, and global trade identification number, all encoded into 2D data matrix code. Module also integrates camera that cross-checks human-readable text with code in milliseconds. All information is stored in centralized database. Allowing for traceability of products throughout supply chain, product also helps identify counterfeit items.
---
Original Press Release:

New Track and Trace Solution from Bosch Prevents Counterfeit Products



Consistent product marking with unique serial number

Central database for product backtracking

Easy integration into existing packaging lines

The new Track and Trace system from Bosch Packaging Technology addresses the need for pharmaceutical manufacturers to significantly reduce the possibility of counterfeit products on the market. The number of counterfeit medicines that have been confiscated at European borders has significantly increased in the past five years, creating a growing threat to patients worldwide. According to a report by the European Commission[1], 178 million products were stopped by customs in 2008, increasing by 126% from 79 million in 2007. With the Track and Trace system, a unique identifying code is printed onto each product after it has been packaged, which allows for the traceability of individual products throughout the supply chain and facilitates the identification of counterfeit products. It also provides manufacturers with documented proof of what has been produced at item level.

The Track and Trace system uses a Carton Printing System (CPS) module consisting of a printer and camera, which automatically prints and verifies products. To trace each product individually, a unique serial number as well as an expiration date are printed on to the package. The information also includes a batch number and global trade identification number (GTIN). The system encodes the data into a machine-readable 2D data matrix code, which is printed onto the package, eliminating the possibility for human error in the tracking process.

Printed tracking data is automatically checked for accuracy by the camera which reads and verifies each printed digit (OCR/OCV). Within milliseconds it cross-checks the human-readable text with the 2D data matrix code. All information is then stored in a centralized database, ensuring tracking and tracing of the product is possible after each exits the factory. The database can also be modified to provide the printed data to regulatory bodies like the Food and Drug Administration (FDA) or the Ministry of Health. Regulation of the serialization of pharmaceutical products is currently in place or being implemented in several countries, among them Turkey, France and the USA.

"We offer Track and Trace on machine level in packaging lines as well as on plant level where numerous systems are linked to the same database," said Franz Ludwig, Product Manager, Track and Trace, Bosch Packaging Technology. "Manufacturers do not have to compromise on efficiency in order to maintain high standards of production control and product liability. With the implementation of this solution, counterfeit products no longer stand a chance."

The advanced solution can be integrated into existing lines, including packaging machines, checkweighers, printing modules for cartons and bottles, hand-packing tables and, validation tables for quality assurance. The CPS printer and camera module is designed to minimize impact on overall production output. It maintains a consistently high Overall Equipment Effectiveness (OEE) as it is designed to minimize impact on overall production output, and the solution can be perfectly integrated into the overall system, which results in unrivaled print quality and reliability but still maintains speed and the flexibility to handle different product formats.

Bosch Packaging Technology, based in Waiblingen (Germany), is one of the leading suppliers for total solutions in packaging and process technology. The company develops and produces in 16 countries and distributes worldwide modules and systems for the pharmaceutical, confectionery, and cosmetics industries, as well as other food and non-food industries. The product range is rounded off with service solutions. For more information, please visit www.boschpackaging.com.

The Bosch Group is a leading global supplier of technology and services. According to preliminary figures, some 270,000 associates generated sales of roughly 38 billion euros in the areas of automotive and industrial technology, consumer goods, and building technology in fiscal 2009. The Bosch Group comprises Robert Bosch GmbH and its more than 300 subsidiaries and regional companies in over 60 countries. If its sales and service partners are included, then Bosch is represented in roughly 150 countries. This worldwide development, manufacturing, and sales network is the foundation for further growth. Each year, Bosch spends more than 3.5 billion euros for research and development, and applies for over 3,000 patents worldwide. With all its products and services, Bosch enhances the quality of life by providing solutions which are both innovative and beneficial.

The company was set up in Stuttgart in 1886 by Robert Bosch (1861-1942) as "Workshop for Precision Mechanics and Electrical Engineering." The special ownership structure of Robert Bosch GmbH guarantees the entrepreneurial freedom of the Bosch Group, making it possible for the company to plan over the long term and to undertake significant up-front investments in the safeguarding of its future. Ninety-two percent of the share capital of Robert Bosch GmbH is held by Robert Bosch Stiftung GmbH, a charitable foundation. The majority of voting rights are held by Robert Bosch Industrietreuhand KG, an industrial trust. The entrepreneurial ownership functions are carried out by the trust. The remaining shares are held by the Bosch family and by Robert Bosch GmbH.

Contact:

Sandro Gisler

phone +1 919 501 2919

Contact person for press inquiries:

Christian Bosshard

phone +41 52 674 6771

Additional information can be accessed at www.bosch.com.

© ABI 2010 All Rights Reserved